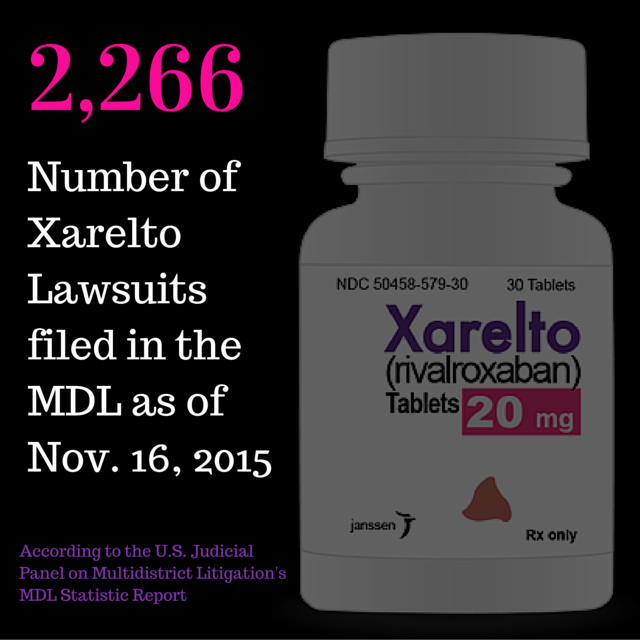 The number of Xarelto lawsuits consolidated in a multidistrict litigation has surpassed 2,000.
According to the latest information reported by the U.S. Judicial Panel on Multi-district litigation as of November 16, 2015, there are 2,266 complaints are now pending in the federal court system. The increase comes as more patients file lawsuits alleging they suffered serious complications linked to using Xarelto.
Xarelto is a new-generation anticoagulant, manufactured by the Janssen Pharmaceutical Companies of Johnson & Johnson and Bayer HealthCare and was approved by the US Food and Drug Administration in 2011 to lower the risk of strokes and blood clots in patients with non-heart valve-related atrial fibrillation. It is also used to treat deep vein thrombosis (DVT) and pulmonary embolism (PE) and to reduce the risk of blood clots in patients who have undergone knee or hip replacement surgery.  Users of Xarelto have suffered serious and dangerous side effects including life-threatening bleeding.  Xarelto users who have filed lawsuits were not warned of the alleged bleeding risks or the fact that there is no way to counteract a Xarelto bleeding risk.
U.S. District Judge Eldon Fallon presiding over the Xarelto multidistrict litigation. This fall, he issued a Case Management Order No. 2 (CMO), indicating that 40 Xarelto lawsuits will be selected as potential cases for bellwether trials. In the CMO, Judge Fallon directed attorneys for the plaintiffs and the defendants to each choose 10 potential cases for the bellwether pool and he will randomly select 20 cases. By January 11, 2016, 40 cases shall be selected for inclusion in the initial bellwether discovery pool.
Courts use bellwether trials when a large number of plaintiffs are proceeding on the same theory or claim. In the lawsuits pending in the Xarelto MDL, all involve similar allegations that Bayer and Johnson & Johnson's Janssen subsidiary failed to adequately warn consumers about the potential bleeding risks with Xarelto.
The Case Management Order No. 2 also states that 2 of 4 bellwether trials will take place in the U.S. District County of the Eastern District of Louisiana on February 6th, 2017, and March 13th, 2017. The third Xarelto bellwether trial is set to be heard in Mississippi on April 24th, 2017, while the fourth and final bellwether trial will be heard in Texas on May 30th, 2017.
The attorneys of Salvi, Schostok & Pritchard P.C. are investigating cases of hemorrhages that may be due to use of the Xarelto. If you or a loved one has suffered a hemorrhage after taking Xarelto, contact us right away to protect your legal rights and explore the options available to you for seeking compensation for the harm you have suffered.