CHICAGO (Salvi law) – If you haven't already, chances are you will soon find yourself near a beach or lake. Many locals take advantage of our close proximity to Lake Michigan, the Des Plaines River, Chicago River, Fox River, Illinois River, and Chain O'Lakes. But if you set sail this season, make sure you do so responsibly!
June 24- 26, 2016 marks "Operation Dry Water," which is a national boating under the influence awareness campaign. While boating is a fun summer activity, this campaign sends an important message about the dangers of drinking while operating a boat, including serious and potentially fatal accidents.
Read More | Operation Dry Water
Some boating accidents can't be helped or are caused by adverse weather conditions. However, other boating accidents may be caused by the driver's negligence or a defect in the boat or its equipment. The U.S. Coast Guard cites alcohol and drug use, excessive speed, inattention, and inexperience as some of the most common causes of boating accidents.
According to a 2015 report from the Illinois Department of Natural Resources, last year 74 boating accidents occurred, resulting in 49 injuries and 14 fatalities. Eleven of those fatalities happened on a day with clear conditions and calm waters. Six of the fatalities involved alcohol or drug impairment.
"Operating a boat while under the influence is just as dangerous as driving a car while under the influence. There can be devastating consequences," Salvi, Schostok, & Pritchard Partner Patrick A. Salvi II said.
Boating accident reports indicate the majority of accidents occur between June, July and August, on Saturday or Sunday, between 12 p.m. and 6 p.m. Most accidents involve operators between the ages of 20 and 40.
To spread the word and help bring an end to boating under the influence, take the Operation Dry Water Pledge!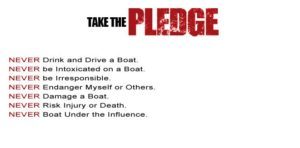 The attorneys of Salvi, Schostok & Pritchard P.C. have been handling boating accident cases for more than 30 years. If you find yourself the victim of a boating accident, feel free to contact our firm for a free, no obligation consultation.