Chicago police car crashes into SUV during police chase, killing driver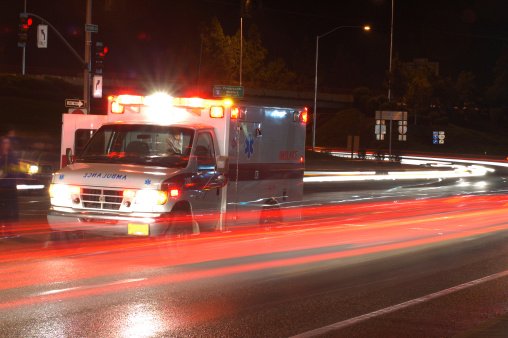 CHICAGO (June 5, 2020) – A Chicago police car crashed into an SUV, killing the driver, while chasing a homicide suspect Wednesday night.
According to police, the pursuit began shortly after 8 p.m. near 115th and Cottage Grove Avenue when Chicago Police officers spotted a dark-colored Jeep that was possibly connected to a homicide and shootings in "neighboring suburbs." Officers attempted to curb the Jeep in the 9400 block of South Union Avenue, but it sped off.
Police chased the vehicle to Irving Park Road and Keystone Avenue, where the Jeep was involved in a traffic crash. No one was reported injured in that collision.
After the collision, the offender ran to a gas station in the 3900 block of West Irving Park and took off in an SUV that was left running. Officers were seen surrounding the vehicle and opening the doors, but the suspect was able to drive away.
The suspect headed east on Irving Park Road. Around 8:15 p.m., one of the police cars chasing the vehicle collided with a black Ford Explorer traveling north on Ashland Avenue. A video obtained by CBS 2 Chicago shows the squad car hit the SUV with such speed and force that both vehicles burst into flames.
The 37-year-old driver of the Ford Explorer was taken to Illinois Masonic Hospital, where she was pronounced dead.
Two officers inside the squad car and three people inside a Hummer that was also hit during the crash were injured, but in fair condition.
Police said the marked squad car's emergency lights and siren were operating at the time of the crash.
The chase was brought to and end when the suspect hit a light pole near Pershing and Morgan Street. The 22-year-old offender was arrested in the area after a brief foot chase.
Chicago Police's pursuit policy states the need to apprehend the suspect must outweigh the level of inherent danger caused by the pursuit. As of Thursday, police did not comment whether or not the chase was justified – only that the incident is now under investigation, CBS reports.
"This is a devastating loss of life and our heartfelt condolences are with all those who have been affected," police said in a statement. "We are reviewing cameras and interviewing witnesses in regards to the criminal investigation into the actions taken by the offender. The entirety of this pursuit is under review and investigation COPA."
Salvi, Schostok & Pritchard is actively seeking justice for those who have been injured in high-speed police chases in Chicago and throughout Illinois. If you or a loved one has been injured, contact our office today at (312) 372-1227 for a free, no-obligation case consultation.