Sterigenics client Stephanie shares her story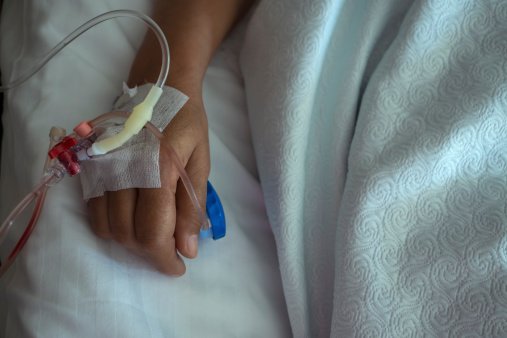 Over 30 years ago, I was born in Willowbrook where I lived for 25 years. Although I do not currently live in Willowbrook, my parents still do and I am a regular visitor almost weekly.
I can pretty much say that Willowbrook is the only home I've had – and I lived within a mile of Sterigenics. I attended elementary, middle, and high school in the area. Even my jobs I worked were within a mile radius as well.
After 25 years in Willowbrook, I moved into the city. I was happy and healthy- training for the marathon and in the "prime of my life" as you could say.
I was out at a concert with friends one night and the next day woke up with a kink in my neck. I started rubbing my neck and felt a small lump by my clavicle that was not there the month before. Being young and healthy, no one thought much of it. Almost three months later, I was perturbed with the diagnosis of lymphoma. I happened to be working as a hematology nurse at the time and now was going to be one of the patients I regularly treated. I remember sitting in the waiting room and my past patients asking me "why are you here?" They then saw my ID bracelet, looked at me and said, "oh  my god I'm so sorry, that's not fair."
Typically, I was one of the youngest people in the waiting room, so it was hard not to miss me. To my dismay, I had learned that two other girls from my high school, within a year in age of me, had the exact same diagnosis within the past nine years. We just thought that we were an "unlucky coincidence" – that is up until the day the news about Sterigenics broke.
Most people I know could not name one person they went to school with who was diagnosed with cancer, yet I knew a couple people who had leukemia or lymphoma, and we were all within years of age from each other. To simply say it, my world was "shook". It was one thing to accept that we were just unlucky, but another to know that someone, something had intentionally done this to me. Who could intentionally poison a town and then look the other way as if nothing happened?
I cannot speak for the horrors and pains that Sterigenics inflicted on other people and their families, just for myself. Despite remission, the whole event caused PTSD. In a way, life just isn't as carefree and enjoyable as it once was. Maybe it is the fear of relapse, regular doctor's appointments, struggle to still pay bills from all the medical costs, the thought of never being able to have kids on my own, or side effects from the chemo that regularly haunt me. I was no longer able to care for my patients at the bedside, since I couldn't take care of myself at the same time.
At my age currently and at the age of my diagnosis, I should have been focusing on adventures, meeting the love of my life, and starting a family. Now I struggle with aches and fatigue every day that make it hard to get out of bed due to the side effects of chemo. I want to go out and enjoy myself, but I can't because I am too tired. The itching that arises if I don't take antihistamines 24 hours a day is unbearable. The permanent "chemo brain" prevents me from going back to school to further my education. I am more susceptible to illness because my immune system is so damaged. I have had to change my diet and can no longer enjoy foods I love, or take certain medications due to intolerance or reactions from the chemical changes in my body. I live with a constant fear of never being able to start a family on my own. Most recently, I underwent a rare surgery and biopsy to confirm I hadn't relapsed.
Everyone has their own story. This is mine. My heart and thoughts go out to all the other victims and survivors out there, as this was our whole community that has been devastated, not just individuals.
By Sterigenics client Stephanie