The NFL's Head-Scratching Concussion Statistics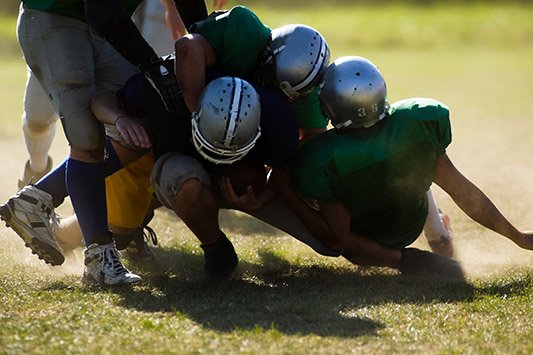 How many concussions – or mild traumatic brain injuries – did National Football League players suffer in 2012? It depends on which source you rely on.
According to the NFL 2014 Player Health & Safety Report, there were 261 concussions in 2012. However, PBS Frontline Concussion Watch reports 171 concussions for the year. And yet another report – Trends in NFL Concussion Recording 2010-2012 – provides yet another different number: 189.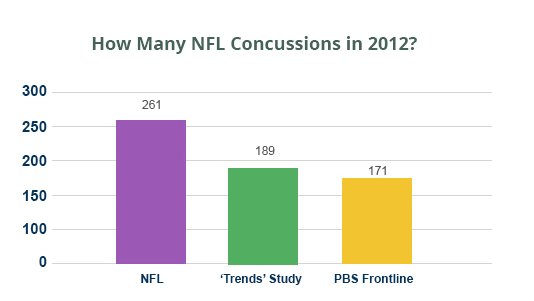 So, who's right? In an article in the New York Times, the executive director of the Sports Legacy Institute, Chris Nowinski, suggests that maybe no source can be correct.
"I'm still certain that 90 to 95 percent of concussions are still not diagnosed, so in that sense, the numbers are meaningless. If you can diagnose every symptomatic blow to the head, you wouldn't have enough players on the field," Nowinski told the Times.
Let's take a closer look at the different concussion reports:
NFL Player Health & Safety Report
The NFL Player Health & Safety Report is the official report of the NFL, which currently is trying to wrap up a $765 million settlement of a class-action lawsuit that accuses the league of trying to protect its brand by concealing known risks of players suffering concussions and head trauma.
According to the NFL Report, the league's total concussions fell from 261 in 2012 to 228 in 2013, or a 13 percent drop. Also, the NFL reports that concussions from helmet-to-helmet hits fell by 23 percent, going from 117 in 2012 to 90 in 2013.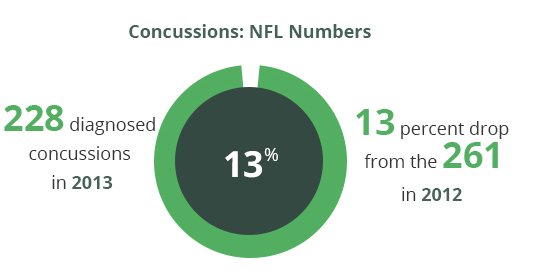 The NFL Report does not disclose the sources for its information or its methods for determining what constitutes a "concussion."
As Concussion Watch states, one problem with the NFL's official figures is that they differ significantly from what is publicly reported each week by NFL teams.

The Trends study, meanwhile, takes issue with the NFL Report's inclusion of concussions from preseason games. According to the Trends study authors, unseasoned rookies looking to make an NFL team's roster may take more dangerous risks during preseason games, which can skew the numbers.
Another issue with the NFL's concussion statistics: They seem to defy logic.
According to the NFL, concussions dropped in 2013 mainly due to rules changes that are aimed at stopping helmet-to-helmet hits and due to improvement in diagnostic tools used by NFL medical teams.
However, as the New York Times points out, advances in education and testing typically would lead to an increase in reported concussions – not a decrease.
Frontline Concussion Watch Project
The PBS Frontline Concussion Watch project, in contrast to the NFL Report, relies solely on data that is released to the public. Concussion Watch's numbers consist of players who have appeared on publicly released NFL injury reports with either a listed concussion or a head injury.
According to Concussion Watch, there were 171 publicly reported NFL concussions in 2012 and 152 in 2013. This represented an 11 percent drop in 2013, or a slightly lesser decrease than what the NFL Report indicates.
Concussions: Concussion Watch Numbers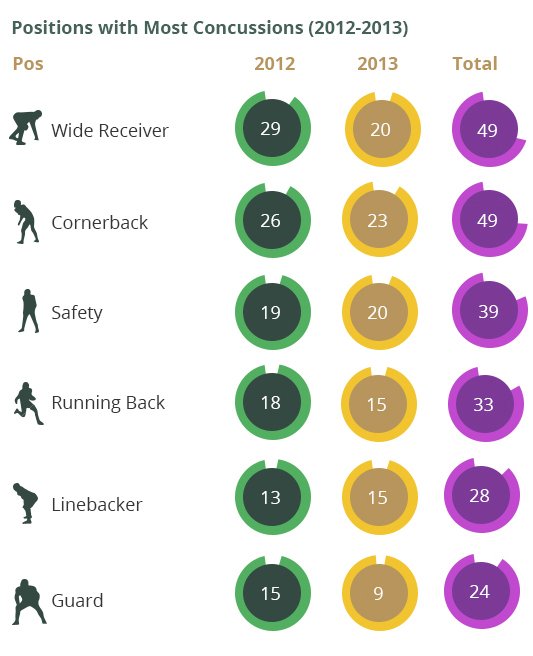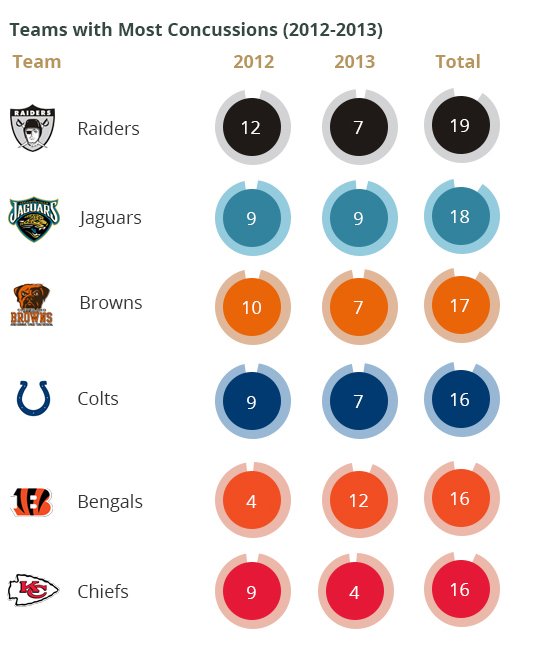 The bigger problem: There is a major disparity between information the NFL publicly releases during the season and the final figures released in the NFL Report. By Concussion Watch's count, 166 concussions went "unaccounted for" in 2012-2013.
"When roughly one-third of head injuries are left off the list, there can be no check on who the missing names are, how quickly they are returning to play or whether the injury marks a repeat concussion for the player," Concussion Watch states in a blog article, "What We've Learned from Two Years of Tracking NFL Concussions."
Concussion Watch notes that its own numbers are limited by the fact that NFL teams don't issue injury reports until Week 1 of the regular season and do not release any reports after their final game of the season.
The Trends study notes that some teams may conceal a player's concussion for competitive reasons or to protect the player from possibly being targeted by opponents, such as what occurred during the New Orleans Saints' "bounty" scandal of 2010.
Trends in NFL Concussion Recording 2010-2012
The Trends study was prepared by Dustin J. Fink, a certified athletic trainer and author of The Concussion Blog, and Sean J. Morey, a former co-chair of the NFL Players Association's Mackey-White Committee and a former member of its Executive Committee.
The study is comprised of only regular season statistics and consists of data compiled from online sources, including NFL official injury reports, CBSSports.com, the "@nflconcussions" Twitter account and "confidential sources" such as NFL players, team representatives and media embeds.
When determining what constituted a "concussion," the study included any injury listed as a head or concussion injury as well as any "likely concussive event" such as those captured on video showing a player suffering from loss of consciousness or balance disturbance. The authors also applied what they call "Fink's Rule," in which any injury resulting in a diagnosed jaw or facial fracture is deemed likely to produce a concussion as well.
Concussions: Trends Study Numbers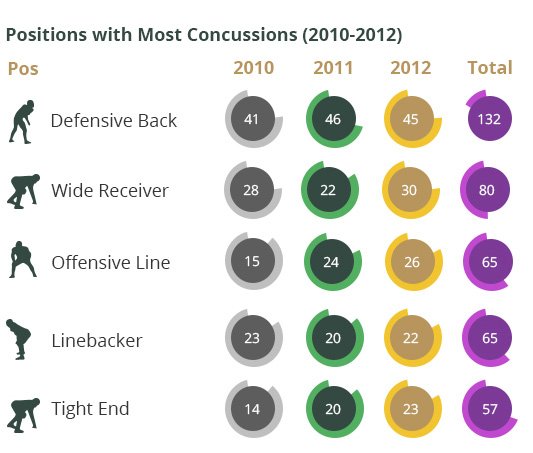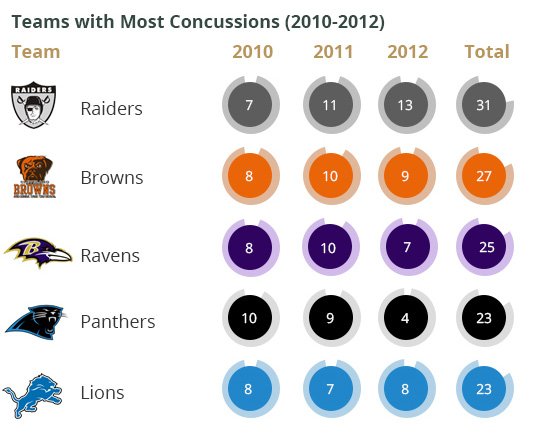 Based on their analysis, the study's authors identified – in contrast to the NFL Report and Concussion Watch report – that there has been a steady increase in concussions. In fact, from 2010 to 2012, the number of concussions in the NFL increased from 159 to 189, or by 12 percent, the authors found.
Like the Concussion Watch report, the Trends study found that defensive backs and wide receivers had the highest total number of concussions, and that the team with the most concussions was the Raiders.
The study notes that teams such as the Houston Texans and Buffalo Bills recorded concussions well below the rest of the league. (The Texans, for instance, recorded only three concussions during the three-year period analyzed, including zero concussions in 2011).
Given that the teams' style of play does not indicate any reason why they should have recorded so many fewer concussions than other teams in the league, the authors call for a "serious investigation."
It may be no coincidence that the Oakland Raiders topped the list of recorded concussions and that their trainer, H. Rod Martin, was named top trainer of the year by the Society of NFL Physicians in 2012. Some teams may exercise more caution than others, the study suggests.
However, according to the Trends study, even its own numbers may not be accurate for a number of reasons, including:
Players' failure to understand, identify and report their concussions;
Medical staff's failure to diagnose the condition;
Concussion symptoms can be readily confused with symptoms akin to exhaustion and other ailments consistent with playing pro football, including fatigue, headaches and irritability; and
Most notably, NFL team medical staffs may be encouraged to purposefully misclassify concussions to avoid compliance with league rules, get a competitive advantage and limit team and league responsibility for future medical costs associated with the injuries.
More Precise Data Is Needed
When three different reports or studies come out with three different numbers for the total concussions in the NFL in a given year – 2012 for example – then it's clear that there is a need for more open and consistent reporting and recording of concussions. Without accurate, publicly available data, the NFL's concussion problem may never be accurately diagnosed.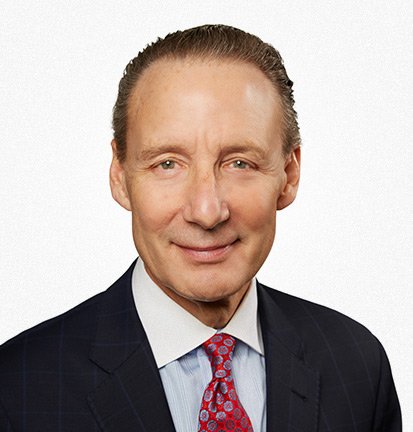 Patrick A. Salvi concentrates his legal practice in several limited areas primarily involving a trial practice in cases concerning serious personal injury, medical malpractice, wrongful death, and mass torts. Mr. Salvi has achieved record-breaking jury verdicts and settlements on behalf of his clients, including serving as lead counsel in obtaining an Illinois record-high $148 million jury verdict and a Lake County record $33 million jury verdict.