Chicago Attorney Referrals
At Salvi, Schostok & Pritchard, P.C., our Chicago personal injury attorneys have earned a reputation for excellence among the legal community in our region. With more than 260 multi-million-dollar verdicts and settlements under our belt, we have recovered more than $1.5 billion in financial compensation for our clients.
Our legal team is truly passionate about protecting the rights of injured victims and their families. We have been fortunate to work with many excellent attorneys in Chicago and beyond on referral cases. If you are a legal professional looking for a respected personal lawyer to represent a client, we ask that you consider our law firm.
Chicago Personal Injury Attorney Referrals
We frequently accept referrals from other attorneys in Chicago, Cook County, Illinois, and throughout the country. If you are a lawyer who is not currently able to handle a specific personal injury case, we can help. Whether the issue is one of timing, a busy schedule, conflicts of interests, or any other problem, our law firm is prepared to provide your clients with the trusted representation that they deserve.
Why Attorneys Refer Personal Injury Cases to Our Firm
Many lawyers and law firms have referred their clients to Salvi, Schostok & Pritchard, P.C., because they know that they can count on us to offer skilled, effective legal representation. For injured victims, nothing is more important than results. We have a proven track record of success handling a wide range of personal injury cases in Illinois. Since the founding of Salvi, Schostok & Pritchard P.C. more than 35 years ago, our attorneys have recovered more than $1.5 billion for our clients.
Our attorney referral program is an important aspect of our mission to provide strong legal representation to injured victims. Other attorneys refer complex personal injury claims to us because they know that we have the experience, the manpower, and the resources to provide their clients with skilled representation. Just as important, our legal team always takes care of the people — the individuals — who are referred to us.
We have a genuine appreciation for our referring lawyers. Over the last 25 years, we have paid out referring lawyers more than $50 million in referral fees. Our law firm strictly adheres to strong ethical guidelines regarding the division of referral fees. We are proud to have had virtually 100 percent satisfaction with our attorney referral network. Indeed, we have long-standing professional relationships with many referring lawyers.
If you are looking for a respected Chicago personal injury lawyer to refer a client to, we ask that you strongly consider our law firm. You will be happy with the results. More importantly, so will your client.
Types of Cases Attorneys Refer to Us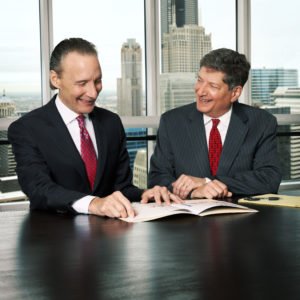 Salvi, Schostok & Pritchard, P.C., is a full-service personal injury law firm. We have a proven record of success in handling personal injury claims — including being listed among the top two firms in Chicago's 2018 lawyer settlement survey. We are also proud of the fact that many of our clients have recommended our services to their friends and family members.
We take our position as victims' advocates extremely seriously. Every personal injury case is unique and every client deserves fully individualized attention. Our Chicago personal injury lawyers have deep experience handling a wide range of different types of claims, including:
Medical Malpractice: Our Chicago medical malpractice lawyers have experience handling all types of medical negligence claims. Our law firm has represented clients in doctor misdiagnosis cases, delayed diagnosis claims, birth injury lawsuits, surgeon error cases, medication errors, anesthesia injury claims, and much more.
Nursing Home Abuse: Our Chicago nursing home abuse and neglect attorneys are strong advocates for senior citizens and other vulnerable patients. We know how to hold negligent nursing homes accountable. If your client suffered an injury or medical complications in an assisted-living facility, our legal team can help.
Product Liability: We represent injured victims in a wide range of product liability claims. Our personal injury lawyers know how to hold negligent manufacturers, product sellers, and marketers legally accountable for misconduct. Among other defective product cases, we have represented clients who suffered injuries as a result of auto parts, drugs, medical devices, children's toys, and food contamination.
Premises Liability: Our Illinois premises liability lawyers have experience handling a wide range of cases, including slip-and-fall accidents, negligent security lawsuits, dog bite injuries, and more. Notably, we won a record-setting $148 million verdict for a dancer who was tragically paralyzed after a pedestrian shelter collapsed at O'Hare International Airport.
Motor Vehicle Accidents: We handle the full range of motor vehicle accident claims, including car crashes, motorcycle wrecks, pedestrian collisions, and commercial truck accidents.
Mass Torts: If your client suffered an injury or serious medical complications as the result of a defective drug or dangerous medical device, our Chicago mass torts lawyers can help.
Catastrophic Injuries: Our Chicago personal injury lawyers have extensive experience handling catastrophic injury cases. This includes brain injuries, spinal cord injuries, amputations, and other injuries resulting in long-term or permanent impairments. We understand the unique challenges that must be addressed in catastrophic injury cases.
Wrongful Death Lawsuits: Dealing with the loss of a close loved one in a preventable accident is incredibly traumatic. Our Chicago wrongful death attorneys provide families with the strong, compassionate legal representation that they deserve in the most trying of times.
Contact Us If You Have a Personal Injury Referral
At Salvi, Schostok & Pritchard, P.C., our Illinois personal injury lawyers are committed to providing effective, sophisticated legal representation to victims. To refer a personal injury case to our law firm or to learn more about our attorney referral network and our referral policies, please call us toll-free at 877-975-7991 or contact us through our website.
We would be more than happy to set up a meeting and discuss your case or your questions in more detail. With an office in Chicago and an office in Lake County, we serve communities throughout the region.