Winter Driving Safety in Illinois: What You Need to Know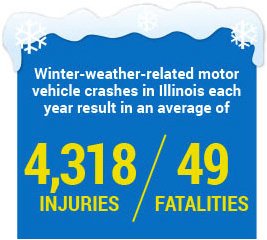 Nearly a quarter of all car accidents are caused by adverse weather conditions, according to the Federal Highway Administration. This includes accidents that are due to rain, sleet, snow, fog, severe crosswinds, blowing snow or slick roads.
As winter weather returns to Illinois and the Chicago area, we are reminded that many people are injured and killed in accidents that occur while driving in bad weather.
Numbers from the FHA and the Illinois Emergency Management Agency indicate the challenges that drivers face in winter. Consider the following: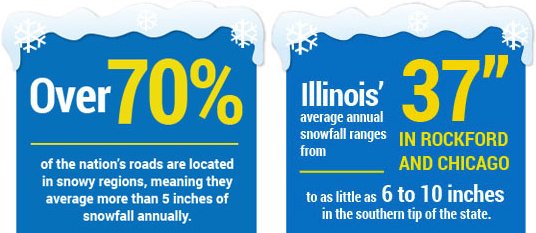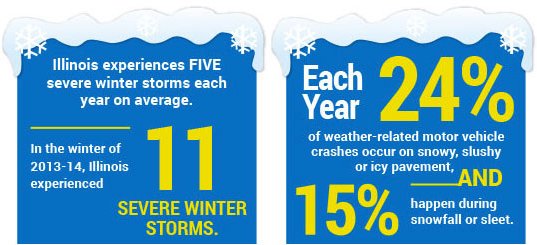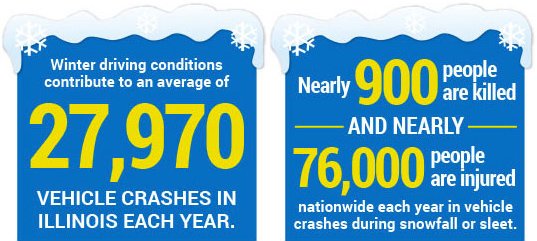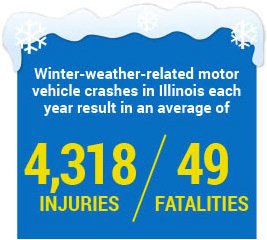 We urge Illinois residents to keep up with weather reports and plan accordingly throughout the winter. If the weather is bad, don't go out at all if possible. Wait for the roads to be cleared and for the snow to stop blowing or consider using public transportation if it is available.
If you must drive in inclement winter weather, please do so safely. The following are winter driving safety tips from the Illinois State Police, the state Emergency Management Agency and AAA for avoiding winter weather car crashes and injuries.
Before You Hit the Road
Plan your travel, selecting both primary and alternate routes.
Let someone know your travel routes and itinerary so that if you do not arrive on time, people will know where to search for you.
Check your tire pressure.
Check your tire tread.
Fill your gas tank before you start and keep it at least half full to keep the gas line from freezing.
Make sure your car is in good running order so you do not stall while on the road.
If possible, never travel alone in bad weather. Having one or two passengers is better. Travel in a convoy (with another vehicle) if possible.
On the Road
Wear seat belts at all times.
Avoid distractions by never talking on a cell phone while driving.
Drive slowly, carefully and defensively. Accelerate and decelerate slowly but steadily. Decelerate by letting up on the gas if possible – not by braking.
Watch for ice patches on bridges and overpasses.
Keep a safe distance between your car and other vehicles.
Brake gently and early, stopping with plenty of space between you and the vehicle in front of you. Use "threshold braking," which means you keep the heel of your foot on the floor and use the ball of your foot to apply firm, steady pressure on the brake pedal.
Don't "power up" hills. Try to get a little inertia going before you reach the hill and let that inertia carry you to the top.
Never stop on an incline if you can help it.
Don't use cruise control on slick roads.
If a storm begins to be too much for you to handle, seek refuge immediately.
If Your Car Becomes Disabled
Stay with the vehicle and run your engine and heater for short intervals to stay warm. Be sure to crack a window in the vehicle to avoid carbon monoxide build-up.
Tie a brightly colored cloth to the antenna or place a cloth at the top of a rolled up window to signal distress. At night, keep the dome light on if possible. It only uses a small amount of electricity and will make it easier for rescuers to find you.
Don't overexert yourself if you try to push or dig your vehicle out of the snow.
Make sure the exhaust pipe isn't clogged with snow, ice or mud. A blocked exhaust could cause deadly carbon monoxide gas to leak into the passenger compartment with the engine running.
Exercise periodically in order to keep your blood circulating and maintain your body heat.
If stranded for a long time, take turns sleeping. One person should be awake at all times to watch for rescue crews.
Bring Your Winter Storm Survival Kit
The Illinois Emergency Management Agency in its Winter Weather Preparedness Guide suggests the following items for a winter storm survival kit for travelers:
Cell phone and charger
Blankets / sleeping bags
Flashlight with extra batteries
First-aid kit
Knife
High calorie, non-perishable food
Water
Extra clothing to keep dry
A large empty can and plastic cover with tissues and paper towels for sanitary purposes
A smaller can and water-proof matches to melt snow for drinking water
Sack of sand (or cat litter) to put under tires and create traction
Shovel
Windshield scraper and brush
Tool kit
Tow rope with loops (avoid chains and hooks if at all possible)
Booster cables
Water container
Compass and road maps.
Our Attorneys Assist Car Accident Victims in Chicago and Illinois
The lawyers of Salvi, Schostok & Pritchard P.C., help victims of traffic accidents and their families in Chicago and Illinois when they have suffered injuries through no fault of their own. If you are involved in a crash, contact us without delay to learn about your legal rights and how our firm can assist you in seeking just compensation for your losses.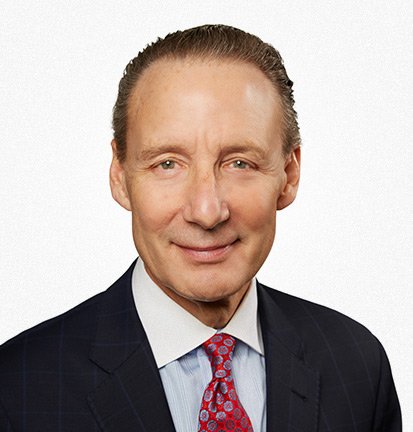 Patrick A. Salvi concentrates his legal practice in several limited areas primarily involving a trial practice in cases concerning serious personal injury, medical malpractice, wrongful death, and mass torts. Mr. Salvi has achieved record-breaking jury verdicts and settlements on behalf of his clients, including serving as lead counsel in obtaining an Illinois record-high $148 million jury verdict and a Lake County record $33 million jury verdict.