Bicycle Lane Accident Lawyer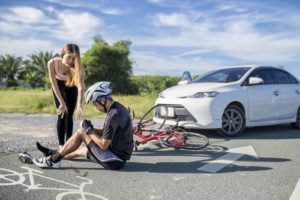 Chicago has put considerable resources into making the city bicycle-friendly, including the development of many miles of lanes used every day by cyclists, pedestrians, and joggers. Although the bike lanes make biking safer in a large city with lots of vehicular traffic, they do not prevent all accidents from occurring.
It's an unfortunate fact that people are still hurt in avoidable accidents, even when riding in bike lanes. Collisions between motor vehicles and cyclists, crashes between pedestrians or joggers and bicycles, dooring accidents, and other preventable accidents can result in severe injuries to those involved.
If you or a loved one was hurt in an accident in a bicycle lane, the personal injury lawyers at Salvi, Schostok & Pritchard, P.C., are here to help. When you speak with us in a free consultation, we will discuss the details of your case and review all your options for pursuing full and fair compensation for your injuries.
Call us today at 1-877-975-7991 to discuss your legal options after a bicycle lane accident.
Common Types of Bicycle Lane Accidents in Chicago
There are more than 200 miles of on-street protected, buffered, and shared bike lanes in the city of Chicago, and many more miles of off-street pathways. The city has an ambitious agenda to build more bike-friendly facilities, including more bike paths, sheltered bike parking, and other amenities by 2020.
Although clearing a path for cyclists should make the roads safer, there will always be risks associated with riding. Common types of accidents in bike lanes include:
Bicycle/motor vehicle accidents. Bike lanes do not provide complete protection from cars, trucks, motorcycles, and other motor vehicles. Some lanes can be crossed by a car at an intersection. Another type of accident is "dooring," where a car door opens suddenly right into the path of a bicyclist. Collisions with motor vehicles, even if it is only with a door, often result in major injuries for cyclists.
Bicycle/pedestrian accidents. These can be devastating to the pedestrian due to the inertia of the rider and bicycle. The pedestrian can be severely injured, and some accidents may result in fatal injuries.
Bicycle/bicycle accidents. As more cyclists take advantage of Chicago bike lanes, the chances for accidents among bikers increases. Because both riders are essentially unprotected, except for helmets, injuries can be devastating as riders are often thrown from the bike.
If you believe your bicycle accident was caused by someone else's negligence, you may be able to pursue compensation for your injuries. Call our experienced bicycle accident attorneys today to talk about the circumstances of your crash and your legal options.
"What is the difference Between a Bike Lane and a Bike Path?"
Bike lanes are striped lanes marked by a white line that may only be used by bicycles. They are generally on city streets, and cars may park to the right of the bike lane.
Bike paths are separate from the traffic lane, but they are paved and are accessible to pedestrians, bicycles, and joggers.
What Are the Rules of the Road for Motorists Driving Near Bike Paths?
Always be aware of bicycles in the bike lane. Bikes are small and are sometimes easy for inattentive drivers to overlook, so motorists need to check twice before making any turn that crosses a bike lane. One of the worst kinds of bicycle accidents are left-hand turn accidents. Drivers often see an opportunity to go and take off quickly before checking to see if a bike is crossing the intersection, which can lead to a devastating and potentially fatal accident.
Cars should also never use the bike lane to pass somebody, or "cheat" the bike lane in any way by taking up space with their car.
Since parked cars are often adjacent to the bike lane, it is important to look carefully before opening your door into a bike lane, and even then, open it slowly.
Tips for Cyclists When Riding Near Cars
A collision with a car could have devastating consequences for a cyclist, so riders should be extremely careful around motor vehicles:
Ride defensively and always look to see if the driver can see you by checking if you can see their eyes in the rearview or side mirror. If you can't see their eyes, they can't see you.
Don't ride recklessly, such as by weaving or going too fast.
Wear bright clothing and use reflective clothing if you can. Always use headlights and tail lights at night or in bad weather.
What to Do If You Are Hit by a Vehicle While You Are Riding a Bike
Hopefully, the driver will stop to lend you assistance, and you should use that opportunity to get the driver's name, license, and insurance information. If it is a hit-and-run accident and you are injured, try to get as much of the license plate as you can.
Call the police and seek medical attention right away. If you are able, take photos of the scene and your injuries. Also, be sure to get the names and contact information of any witnesses.
Talk to Our Bicycle Accident Lawyer Now
In virtually any accident scenario, bicyclists face significant risk of injury. Head and traumatic brain injuries, broken bones, back injuries, knee and ankle injuries, shoulder injuries, elbow and wrist injuries, and road rash are all common for cyclists involved in a crash.
It is important to understand your rights to pursue compensation for your losses after a serious collision. Contact the bike path accident lawyers at Salvi Schostok & Pritchard, P.C., today for a free, no-obligation consultation about your personal injury claim. Call us at 1-877-975-7991 for an honest assessment of your case and answers to your legal questions. Our team is here to help you move forward with your life after a bike lane accident.