Chicago Burn Injury Law Firm
The attorneys of Salvi, Schostok & Pritchard P.C., realize the pain and suffering that burn injuries cause victims to experience. We also know the significant costs that can arise from these injuries.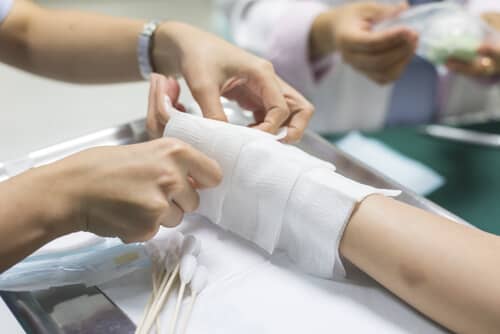 Victims often need extensive medical treatment and rehabilitation. They may be unable to work as well. Meanwhile, their family members may need to provide ongoing care while at the same time, coping with the loss of their loved one's services around the home.The aftermath of burn injuries can, indeed, be a very challenging time. We want to help.
If you were severely burned due to the fault of another, you may be eligible to recover compensation for the physical, emotional and financial harm you have suffered.
The experienced lawyers of Salvi, Schostok & Pritchard P.C., can review your rights and options with you in a free consultation. Our firm serves clients in Chicago and throughout Illinois. Simply call or contact us online today to get started in your case.
How Can Our Burn Injury Attorneys Help?
Our law firm believes it is crucial to have your case reviewed by an attorney who has experience with protecting the rights of burn victims and understands the life-changing impact of serious burn injuries.
Since our law firm was founded, we have recovered more than $975 million in verdicts and settlements on behalf of our clients, including 210 cases with recoveries of $1 million or more.
If you are unaware of your legal rights or options as a victim, we can guide you through them in our initial consultation.
We can also provide a comprehensive investigation of your case. We can compile evidence and consult with highly qualified experts who can help us to determine why your burn injury occurred, who should be held responsible and how much should be pursued in compensation.
Our attorneys can also file all necessary paperwork with insurance companies and/or the courts, seek a timely settlement of your claim and, if needed, present your case to a jury.
While your case is pending, we can also ensure that you receive proper medical treatment for your injury.
Above all, we can help you to avoid the costly mistakes that many victims in Chicago and Illinois make when they attempt to handle a case on their own. For instance, we can make sure that you do not accept a settlement agreement that fails to fully compensate you for all of your losses. Our goal, ultimately, will be to protect you at every stage of your case.
What Are Your Rights as a Burn Accident Victim?
Your right to recover compensation as a victim will depend on whether another party was at fault. This may occur in several different situations. Examples include:
Motor vehicle accidents – When a careless driver causes a car, truck, bus, public transportation, or motorcycle crash, burns can result from fires and sparks from gasoline, fluids or exposed wires. Friction burns may also occur.
Boating and aviation accidents – Although they occur less frequently than motor vehicle accidents, accidents caused by careless or reckless boaters can produce the same types of burn injuries. Gasoline fires may be more catastrophic due to exposed fuel tanks in boats.
Workplace accidents – Serious burns are among the leading types of workplace injuries. These burns can include chemical burns and scalding. They can occur at restaurants, factories, construction sites or warehouses. They may be caused by exposure to fires, explosions, wiring, hazardous chemicals, compressed gases and hot liquids.
Radiation – A patient undergoing cancer treatment, for instance, may suffer radiation burns due to the negligence of a medical professional.
Electrocution – An electrical shock from exposed, dangling wires can produce burns that harm skin, muscles and nerves. These accidents frequently occur in the construction industry. However, they also can occur in residential settings and may be due to the negligence of a landlord.
Propane gas tanks – Improperly filled or defective propane tanks that are used for cooking or heating can lead to fires and explosions. Manufacturers and distributors of faulty tanks may be liable.
Defective appliances – An electrical burn can result from faulty wiring in a household appliance. Burns may also result from defective grills, griddles, stoves and space heaters. The manufacturer may be liable for failing to provide proper safety features or adequate warning labels.
If another party is at fault for your burn, you may be able to recover reasonable and fair compensation in a personal injury or product liability claim. The damages you seek can include:
Reasonable and necessary past and future medical expenses
Loss of past and future earnings and profits
Scarring and disfigurement
Loss of a normal life
Shortened life expectancy
Pain and suffering
Emotional distress.
Even if you partially contributed to your accident, you may still be eligible to recover compensation. You would be barred from a recovery only if you were more than 50 percent at fault. Otherwise, your damages would be decreased in proportion to the amount of fault attributed to you.
Generally speaking, under Illinois law, you will have two years from the date of your accident in which to file a claim for compensation. This is why it is important to contact an experienced personal injury as soon as you are ready to take legal action.
What Costs Do You Face After a Burn Accident?
A burn injury can result in extensive care and treatment costs. It will depend, in large part, on the severity of the burn injury.
Categories of Burn Injuries
Burns generally are described as falling within one of four categories:
First degree – These burns are the least dangerous even though they can be very painful. Damage to the outer layer of skin (epidermis) could make it appear to be red and dry. However, your skin will not blister.
Second degree – This degree of burn damages the outer skin and part of the underlying layer of skin (dermis). Burned skin can become red and blistered. It may become swollen. Pain from a second-degree burn can be severe. A deep second-degree burn can leave a scar.
Third-degree – These burns are severe injuries. The damage can reach the level of fat under the dermis and destroy nerves. Burned skin may become stiff, waxy white, leathery or tan. Because of nerve damage, a victim of third-degree burns may feel numbness instead of pain.
Fourth-degree – This burn is potentially fatal. The damage will extend to muscle, tendons and bones. It may leave your skin blackened or charred. A fourth-degree burn victim actually may have no pain because of extensive nerve damage.
The more severe the burn, the more likely that one will experience:
Skin, bone, muscle and nerve damage
Scarring and disfigurement
Contracture (tightening of soft tissue which restricts movement)
Lung and other internal organ damage
Chronic pain.
A concern is that an injured victim may also suffer complications that can include infections, respiratory failure and arrhythmia (or irregular heartbeat). A burn survivor may also suffer emotional harm, including anxiety and depression.
As explained above, the costs of treating burn injuries and related physical and mental complications should be taken into account when seeking just compensation for your losses.
Burn Treatment
Burn treatment often starts at a general hospital before a patient is transferred to a specialized burn center. The treatment may include:
Emergency medical care
Hospitalization
Medication
Compression therapy (use of burn garments to prevent contracture)
Debridement (removal of dead or contaminated skin tissue)
Skin grafting (replacing dead skin tissue with tissue from another area of the body)
Plastic surgery (to remove or mask scars)
Mental health counseling
Physical burn rehabilitation.
Also, as described above, the costs of a burn injury may also include the wages a person loses while recovering from the injury as well as the decreased ability to earn a living in the future.
Contact Our Chicago Burn Injury Lawyers
If you or a loved one has suffered a severe burn injury as the result of another's negligent or reckless conduct or from a defective product, the burn injury lawyers of Salvi, Schostok & Pritchard P.C., can help.
We have offices in Chicago and Waukegan, and we represent clients throughout Illinois. For a free, no-obligation consultation, call us today or reach us online.
Sources / More Information: