Car Accident Do's and Don'ts in Illinois
Your immediate reaction to a car crash can have a positive or negative effect on your ability to recover money for your property damage, bodily injuries and other losses.
Below are key steps to take and mistakes to avoid if you have been in a crash in Chicago or elsewhere in Illinois.
DO get help
The first move in any traffic accident is to assess whether you or others are injured. Call 911 to get immediate medical help for anyone who is hurt and to make sure your crash has been promptly reported to a law enforcement agency.
DON'T ignore the seriousness of a car crash
Even if you have no visible injuries or think you escaped with only minor cuts and scrapes, still visit a doctor as soon as possible. Due to shock, you may not realize that you have suffered a serious back, neck, head, organ or other injury. Tell your doctor what happened and make sure you are thoroughly examined. Follow your doctor's recommended treatment plan.
DO document the accident scene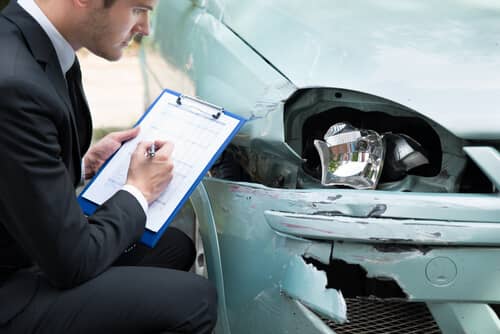 Before they are towed away, take photos of the exterior and interior of all vehicles involved. You should also get photos of the vehicle license plates, skid marks, broken glass, nearby traffic controls and the surrounding area. Exchange contact and insurance information with the other driver(s) involved in the crash. Get witness names and contact information as well.
DON'T overreact at the accident scene
Being in a car crash is a stressful situation. However, you won't be able to take important steps unless you are as calm as possible under the circumstances. Don't admit fault. Don't assign blame. Cooperate with police and emergency responders. Answer questions honestly and succinctly.
DO get a copy of the traffic crash report
Write down the name, badge number and agency of the law enforcement officer who responds to your crash and prepares the traffic crash report. Also, make sure to get the report number. You should be able to contact the law enforcement agency within a day or two after the crash and request a copy of the report. For instance, if the Chicago Police Department prepared your crash report, you can simply go online and get a copy.
DON'T forget to file a written report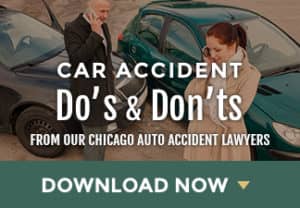 If you have been involved in a "reportable accident" – one resulting in death, bodily injury or property damage of $1,500 or more ($500 or more if the vehicle is uninsured), you have a legal duty to file a written report with the Illinois Department of Transportation (IDOT) within 10 days after the accident. You can use a paper form that the responding police officer gives you or you can go online to the IDOT website.
DO cooperate with your insurance company
Although you are not required by law to report your accident to your auto insurance provider, your policy likely requires it. The best practice is to report the accident to your insurer as soon as possible. Your insurer may ask you to provide a statement. Be careful. Do not admit or assign fault. Do not characterize your injuries. Stick to the facts. Even your own insurance company may try to portray your accident and injuries as less serious than they are in order to support paying a smaller settlement of a claim you file.
DON'T help the other driver's insurance company
If another driver's insurance company contacts you, be polite – but be cautious. Tell the insurer to contact your insurance company or your lawyer for details. Never provide a recorded statement. Never sign anything. A release or settlement offer, for instance, should be carefully reviewed by an attorney first.
DO keep a journal and/or file of your accident and recovery.
Make sure to write down your memories of what happened in the accident while those details are still fresh in your mind. You should keep a journal that records your injuries and the way they have impacted your normal life activities. It also a good idea to keep a file in which you can store copies of all medical bills and other receipts, accident reports, work records and correspondence between you and insurance company representatives.
DON'T discuss your case with non-family members
While you may discuss what happened with family, you should be cautious about talking with others about your accident. Conversations with friends or with the general public are not protected by confidentiality privileges. In particular, never discuss your crash on social media sites such as Facebook and Twitter.
DO contact a car accident lawyer
You have only a limited time to file a personal injury or wrongful death lawsuit after a traffic accident in Illinois. You should not delay contacting a lawyer.
At Salvi, Schostok & Pritchard P.C., we offer initial consultations that are free, confidential and carry no obligations. The bottom line is that we want you to get legal help – right away.
When you engage a car accident lawyer after a car wreck, that lawyer will work hard to protect your interests. No one else will fill this role. Even your insurance company is looking out for its bottom line first as it determines a settlement for your claim.
Your attorney can investigate your case, file all necessary paperwork and seek compensation you deserve for your medical expenses, lost income, pain and suffering and more.
For more information, call Salvi, Schostok & Pritchard P.C., today toll free or contact us through our convenient online form. We're ready to help you.