Chicago Failure to Yield Car Accident Attorneys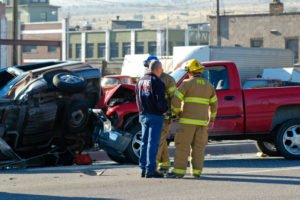 When vehicles, cyclists, and pedestrians' intended routes of travel intersect, it is vital to all involved to observe the "right of way." Right of way rules establish who must yield to whom at T-intersections, uncontrolled intersections, school zones, and other situations. These rules exist to help traffic flow and keep everyone safe.
Unfortunately, it is quite common for drivers to either be unaware of who has the right of way, or to simply ignore it. As a motorist, cyclist, e-scooter rider, or pedestrian, it is important not to assume that the other person will yield the right of way, even when the rules state that they should.
If a driver fails to yield the right of way and causes an accident resulting in serious injury, you have the right to demand fair compensation for the harm you suffer and other losses you incur. At Salvi, Schostok & Pritchard, P.C., our Chicago car accident attorneys have successfully helped others like you who have been hurt due to a negligent driver's failure to yield. We will seek the maximum compensation you need to recover so you can move forward with your life.
Schedule a free consultation now to discuss how our Illinois trial attorneys can help you with your case.
Failure to Yield Resulting in an Accident
There are many situations where someone's failure to yield the right of way can cause a serious injury or fatal accident. Situations where failure to yield accidents can occur include:
Pedestrians in a crosswalk
A four-way stop where a driver runs the stop sign or drives out of turn
Making a left-hand turn across oncoming traffic
Making a right-hand turn at a red light
Merging onto a highway
Emergency vehicles trying to pass
If a motorist fails to yield and hits another vehicle, cyclist, moped, e-scooter, or pedestrian, the results can be devastating. Some commonly reported injuries caused by failure to yield accidents include:
Spine and spinal cord injuries (including partial or total paralysis)
Neck injuries
Internal organ damage
Broken or fractured bones
Soft tissue injuries
Cuts and lacerations
In the worst cases, the victim might not survive the crash. When this happens, surviving family members may wish to pursue a wrongful death claim against the driver who failed to yield when they were supposed to.
Illinois Failure to Yield Laws
In the state of Illinois, specific laws protect you when you are on the road. Illinois' right of way laws state that motorists must yield to others in the following situations:
Pedestrians
Motorists are expected to yield to pedestrians in the following situations:
When a pedestrian is trying to cross at an unmarked or marked crosswalk
When a pedestrian is attempting to cross on the driver's side of the road where no traffic signals are present
When a pedestrian is crossing at an intersection where you're trying to turn
When a pedestrian is crossing when a walk signal light is visible
When a pedestrian is in a crosswalk and the signal has changed to "don't walk."
Other Motorists
Drivers are expected to yield to other motorists in the following situations:
Turning right at a red light
At a four-way stop if someone else was there before you
Making a left-hand turn
When approaching a yield sign
At a yield sign with a flashing arrow
At a flashing red light or stop sign
Emergency Vehicles
Motorists are expected to yield to emergency vehicles in the following situations:
If an emergency vehicle using its signals is stopped, you are required to merge into another lane and continue to pass it with caution.
If an emergency vehicle is approaching you from behind with its lights and sirens, you are expected to move over to let it pass. 
Help for Victims of Failure to Yield Car Accidents
If you were injured because of someone's failure to yield, it's crucial for you to speak with an attorney immediately.
When you call the experienced car accident attorneys at Salvi, Schostok & Pritchard, P.C., we will begin working on your case right away. We will launch a thorough investigation into the accident and secure critical evidence before it is cleaned up, lost, or destroyed. Evidence that will be essential to building your case includes:
The police report
Pictures of the scene and your injuries
Eyewitness statements
Video surveillance
Your medical records
Expert evaluations
In failure to yield accidents, you have the right to seek compensation if someone else's negligence harms you. The damages you may be compensated for include:
Medical bills (past, current, and future)
Property damage
Lost wages
Reduced earning capacity for the future
Pain and suffering
Failure to yield the right of way is an actionable offense in Illinois. If the other motorist is cited for this infraction, their insurance company should compensate you fairly. Unfortunately, insurance companies don't make the claims process easy for injured accident victims.
Our skilled lawyers will manage all communication with the insurance company and aggressively fight for the full compensation you deserve. If a satisfactory car accident settlement cannot be reached, we will be prepared to file a lawsuit and seek damages in court.
Talk to a Failure to Yield Lawyer Now
Since 1982, our respected personal injury law firm has fought for the rights of accident victims in Chicago and across Illinois. Our track record of success speaks for itself, with 258 cases with a result of $1 million or more for our clients.
Every case is unique. That's why our team gives each client the personal attention they deserve. Contact Salvi, Schostok & Pritchard, P.C., now to schedule a free consultation to discuss your case. There is no cost and no risk to speak with one of our attorneys. When we take your case, we will represent you on a contingency-fee basis, which means that we won't charge you anything unless we secure compensation for you.
Contact us now to get started. Our team is ready to fight for your recovery.