Uninsured / Underinsured Accident Lawyers in Chicago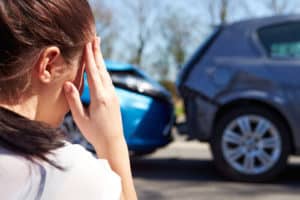 After a car accident, most drivers exchange insurance information. But if one person doesn't have enough insurance to cover the damages or drives without any coverage at all, there can be devastating consequences. In this situation, you could be the one who suffers the most.
Thankfully, you're not alone. The Chicago uninsured / underinsured motorist lawyers at Salvi, Schostok & Pritchard P.C., are available to guide you through all of your legal options. We're highly experienced at handling UM / UIM cases. Call us today at 312-372-1227 or use our online form to schedule a free, no-obligation consultation.
Did The Insurance Company Deny Your Claim? Our Attorneys Can Help
Even if the other driver is uninsured or underinsured, you still may be able to file a claim with your own insurance company. But this option is only available if you've purchased underinsured or uninsured motorist coverage, which is sometimes called UM/UIM coverage. While Illinois law requires all insurance companies to offer this feature, you aren't obligated to buy it. That's why it's important to look over your policy carefully and find out what it covers.
If you have uninsured or underinsured motorist coverage included in your insurance, you still may have to fight to get the money you deserve. Insurance companies don't like having claims filed against them. You may need an attorney to intervene on your behalf.
Salvi, Schostok & Pritchard P.C., can step in and make sure your insurance company lives up to its promises. We know how insurers think. We know what they look for when they deny a claim. We also know how to present your case in a way that will be difficult for them to reject. For more than three decades, we've helped accident victims recover the damages they deserve after an accident with an uninsured or underinsured driver.
Our Attorneys Have Experience With Uninsured & Underinsured Cases
The Chicago UM/UIM attorneys at Salvi, Schostok & Pritchard P.C., have experience with car accidents, including cases that involve UM/UIM issues. We know how to work with insurance companies. We also know how to conduct thorough car accident investigations, preserve key evidence and collect medical records that show your injuries and long-term health status. We also work with medical experts who are qualified to review your case. They can provide informed opinions on the health issues caused by your car accident.
Salvi, Schostok & Pritchard P.C., has represented victims of auto crashes involving uninsured/underinsured motorists across Illinois, including Chicago and surrounding areas in Cook County and in Lake County. We understand the physical, emotional and financial conflicts caused by car accidents. Our goal is to help clients rebuild their lives. We are committed to making sure personal injury victims receive the best legal support possible.
Contact Our Uninsured/Underinsured Accident Lawyers
If you've been in a car crash because of another driver who is not sufficiently covered by insurance, turn to the Chicago law firm with a record of success and a team of skilled car accident lawyers who know how to get results.
Salvi, Schostok & Pritchard P.C., has recovered more than $1.5 billion on behalf of clients across Illinois in personal injury and wrongful death cases, including more than 260 multimillion-dollar verdicts and settlements. We have the experience you need for your UM/UIM claim.
We offer free, no-obligation evaluations. You will not pay for our legal services unless we obtain compensation for you and your family. To speak with our Chicago uninsured/underinsured motorist lawyers, call us today toll-free at 312-372-1227 or use our online form.