Chicago Rear-End Accident Attorneys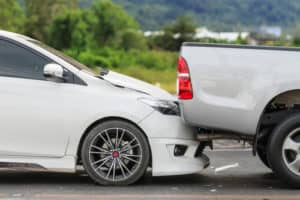 Rear-end car accidents can cause serious injuries – even when the impact does not appear all that bad at first. You should never let the other driver convince you that there is "no need to get the insurance companies involved." Instead, you owe it to yourself to protect your rights, explore all of your legal options and pursue the compensation you deserve.
The skilled car accident lawyers of Salvi, Schostok & Pritchard P.C., can guide you through every step in the process. Over the years, our attorneys have secured more than $1.5 billion in verdicts and settlements, including more than 160 multi-million dollar settlements. We care about our clients, their families and their futures.
With offices in Chicago and Waukegan, we serve clients throughout Illinois. Contact us today to schedule a free consultation and learn more about how we can help with your claim.
Rear-End Collision Can Cause Serious Injuries
Even slow-speed rear-end accidents can cause people to suffer serious injuries. These injuries may lead to costly medical bills, lost time from work and a great deal of pain and suffering. That is why you should consult immediately with an experienced auto accident attorney from Salvi, Schostok & Pritchard P.C., who will seek full compensation for you.
Whiplash is the most common injury among rear-end car accident victims in Illinois. Whiplash happens when a person's head and neck move back and forth in a violent, rapid motion. The whip-like motion can strain tissue in the neck and cause a host of medical problems, from muscle tears to disc injuries. A person with whiplash may experience long-term loss of motion in the neck and suffer from chronic pain.
Of course, whiplash is not the only type of rear-end collision injury. Any time two vehicles collide, serious physical harm is bound to occur. Examples of other types of injuries that commonly occur in these crashes are:
Head and brain – A direct blow to the head can cause these injuries. For instance, upon impact, a person might strike his or her head against the dashboard or steering wheel. Even a mild form of traumatic brain injury (TBI) such as a concussion can have lasting effects on a person's life.
Back and spine – Disc injuries are common in rear-end crashes. They range from bulging, herniated or protruding discs to ruptures and fractures. Likewise, people often experience torn muscle and ligament injuries along the spine. These injuries can limit mobility and trigger extreme, long-term pain.
Fractures – When bones break, they usually don't break clean. Hand, arm, leg or foot fractures often break in an uneven pattern, leading to a long recovery, nerve damage and other complications. A fractured bone can put someone out of work for a long time and lead to a significant loss in earnings.
Soft tissue – Even though insurance companies try to downplay soft tissue injuries, they can be extremely A torn rotator cuff or torn labrum in your arm, for instance, can be excruciating and require surgery to repair it. Surgery to repair torn muscles can also be very expensive.
Bruises and lacerations – A rear-end accident can cause broken glass to fly through the cab of the vehicle which cuts and scrapes people. Seatbelts can also cause cutting and bruising to the torso and waist.
Why Do Rear-End Collisions Occur?
Salvi, Schostok & Pritchard P.C., will investigate the rear-end accident in your case to determine how it happened and who should be held responsible for it. This investigation will include gathering evidence and may include consulting with medical and crash reconstruction experts to ensure that all the facts are carefully discovered and presented in your favor.
Typically, an investigation will reveal that the driver in the rear vehicle was at fault. Some of the ways in which a rear driver can cause a crash are:
However, the rear driver is not always at fault. Sometimes, the driver in front may be responsible for a crash. For instance, the driver may:
Suddenly turn or change lanes without a signal
Swerve in front of another car to avoid a car, person or object
Come to a sudden stop or abruptly slow down
Operate a car with defective tail lights or turn signals.
Because of our extensive experience with car accident cases in Illinois, the attorneys of Salvi, Schostok & Pritchard P.C., will know what facts to look for in your case in order to determine the cause of your accident.
How Can a Lawyer Help After a Rear-End Collision in Chicago?
One of the most important things a Chicago rear-end collision attorney from Salvi, Schostok & Pritchard P.C., can do for you is to perform an extensive and thorough investigation into the facts. The investigation includes carefully assessing your medical records, consulting with experts to better understand the implications of your injuries and calculating your damages.
Based on this information, we can demand that the insurance company pay a fair and reasonable settlement that will help you to get back on the road to a recovery. If necessary, we will be ready to take your case to trial in order to force the at-fault party and their insurance company to pay the amount you deserve. There is no risk to you. We will never charge a fee unless we succeed at recovering money on your behalf.
Our Chicago Rear-End Collision Attorneys Are Ready to Help You
Even if you think your case is minor, or you are not sure if you have a right to bring a claim, you should still talk with a Chicago car accident lawyer about your case.
You will have only limited time to act. If you fail to bring your claim within the applicable statute of limitations, you could lose your right to be compensated for your injuries and losses. Under the Illinois statute of limitations, you have just two years after the date of an accident in which to bring a personal injury lawsuit.
So, don't wait: If you or someone you love has been seriously injured in a rear-end collision, contact Salvi, Schostok & Pritchard P.C., for a free consultation.