Delayed Diagnosis Lawyers Serving Chicago and Illinois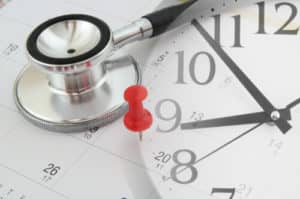 Many conditions and health issues require prompt medical treatment. Unfortunately, with a delayed diagnosis, a patient may fail to get the timely attention that his or her condition warrants. A delayed diagnosis is a form of medical malpractice, and when it occurs, the negligent physician should be held legally responsible. Salvi, Schostok & Pritchard P.C., is one of the leading medical malpractice law firms in Chicago and across Illinois. If you believe that you or a loved one has suffered harm because of a doctor's failure to make a timely diagnosis, contact us right away. We can review the facts of your case and help you to understand your legal options.
The Consequences of Delayed Diagnosis
The consequences of a delayed diagnosis depend on your symptoms and the underlying illness. For some medical conditions, even a slight delay in making a diagnosis can have devastating results. Examples of these situations are:
Cancer – According to Wired.com, some types of cancer have cure rates of 90 percent or greater when diagnosed early. Unfortunately, a delayed diagnosis can allow cancer cells to multiply and spread throughout the body.
Internal injuries – These are injuries that have no outward symptoms but can be deadly if not promptly treated. Any type of internal bleeding or damage to one or more of the organs constitutes a medical emergency.
HIV –If a patient has HIV, he or she can begin immediately taking protease inhibitors to slow or stop the development of AIDS.
Cardiac problems – An irregular heartbeat, arrhythmia and clogged arteries can be treated with a pacemaker or bypass surgery if caught in time.
Blood clots – A blood clot that is not properly diagnosed could prevent the flow of blood to the brain or other vital organs, causing serious injury or death.
Diabetes – A delayed diabetes diagnosis can result in the unregulated insulin causing kidney problems, affecting your vision and other serious health problems.
Arthritis – Prompt diagnosis can allow you to take steps to either slow or stop the damage to the joints that can occur as a result of this medical issue.
Pregnancy complications – A failure to promptly diagnose and treat problems such as placental abruption, preeclampsia and gestational diabetes can all seriously impact the lives of the mother and baby.
Appendicitis – A delay in diagnosing this condition could result in a severe infection throughout the body that could be fatal.
It is evident that a wide range of serious medical conditions can become progressively worse if you do not treat them immediately.
How Does Delayed Diagnosis Occur?
Sadly, delayed diagnoses occur frequently. A study in the British Medical Journal indicated that as many as 28 percent of autopsies reviewed by researchers involved at least one misdiagnosis or medical error. Some of the different mistakes leading to a delayed diagnosis are:
Doctors failing to order appropriate lab work and testing
Delays in labs' evaluation of the results of time-sensitive medical tests
Labs failing to properly and promptly notify doctors and/or patients of the outcome of test results
Doctors failing to notify patients of adverse test results in a prompt manner
Labs or doctors losing tests and results never being read.
Healthcare providers aren't expected to be perfect in every case. But they are expected to behave with a reasonable degree of skill and professionalism. A care provider's failure to diagnose a patient on time may be a breach of the obligation to provide competent care. The care provider could be liable for medical malpractice.
Proving a Delayed Diagnosis Claims
While it is clear that a delayed diagnosis does have an adverse impact on recovery and health in many cases, it is very difficult to prove the extent of this impact. For example, if you had cancer and your diagnosis was delayed, you could argue that the cancer spread and that you needed more invasive treatment or that your chances of surviving the disease decreased. The doctor, on the other hand, might argue that your cancer was aggressive, had already spread and would have spread regardless of whether the diagnosis was made on time or not. Doctors will argue that there is no proof that they actually caused you any harm. They will use experts to assert that you would have had the same medical results no matter what was done. You need to be sure you can stand up to these experts, present your own evidence and prove that the doctor or care provider is to blame for hurting or harming you.
A Chicago Medical Malpractice Lawyer Can Help with Delayed Diagnosis Claims
An experienced Chicago medical negligence lawyer at Salvi, Schostok & Pritchard P.C., should be consulted in a complex delayed diagnosis case. We have an extensive background in investigating and litigating medical error lawsuits throughout Illinois, and we can put that experience to work for you. To learn more, give us a call or contact us online today and schedule a free consultation.
Sources: