Lack of Informed Consent Cases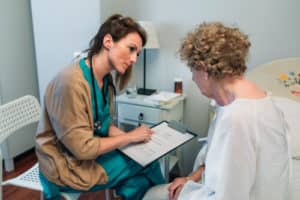 Decision-Making Process before Medical Procedures
In Illinois and throughout the U.S., you have the right to decide what happens to your own body – even when matters of life or death are at stake. No doctor can perform a procedure on you without permission from you or someone authorized to speak for you. The law also mandates that you are to be given the information necessary to make an educated and informed choice about what happens to you. If you are not given the opportunity to make an informed choice, then your doctor or care provider can be liable for medical malpractice on the basis of the lack of an informed consent. These cases can be complicated. The challenge lies in establishing what the standards are for consent and whether you would have agreed to undergo a procedure if you had been fully informed about it. This is why it is crucial to seek help from an experienced Chicago medical malpractice lawyer. At Salvi, Schostok & Pritchard P.C., we have years of experience in the area of medical malpractice, including claims based on a lack of informed consent. Allow us to review your case in a free initial consultation. We can help you determine what went wrong in your case and assess your right to secure compensation for your losses.
Understanding Informed Consent
If someone makes unwanted contact with your body, whether they intend harm or not, that person may be breaking criminal battery laws and may also become liable for a personal injury lawsuit if you experience any type of harm from the unwanted contact. When a doctor performs treatment on a patient, the obligation to refrain from making unwanted contact with a patient's body doesn't disappear. Every patient has the legal right to decide what happens to his or her body. If a doctor makes unwanted contact with a patient's body, the doctor is violating the law just as much as any person who commits battery. Unfortunately, the manipulations and treatments that a doctor performs on a patient's body are highly technical. For example, when a doctor performs surgery on a patient, the patient needs to know a lot about what is going to happen during and as a result of the surgery in order to decide if he or she wants to allow this type of invasive bodily contact. A patient can only make a truly informed decision about whether to allow surgery or another medical treatment if the patient understands what is going to happen to him or her and understands the risks associated with the treatment or the procedure. If the doctor simply requests to perform surgery on  a patient and the patient doesn't know what the surgery entails or what the risks are, the patient has not truly given informed consent to the doctor. The good faith or good intentions of a doctor do not matter if he or she failed to meet the obligation to educate and inform the patient and obtain permission for treatment.
Illinois Laws on Informed Consent
In Illinois, a patient can sue a doctor for failure to obtain informed consent if:
The doctor had a duty to tell the patient about material risks of the procedure/treatment
The doctor fell short in disclosing and explaining the risks
The patient consented to treatment that he or she would otherwise not have agreed to if the doctor had provided information about the risks
The patient was hurt in some way by the treatment as a result of the doctor's failure to provide necessary information.
Proving each of these different elements of an informed consent case can be difficult. For example, in determining whether the doctor had a duty and fell short, it is necessary to consider the laws and the industry's best practices/standards regarding providing information about a given treatment. For instance, if it is customary practice to explain that a procedure could increase the risks of a heart attack, then any doctor who does not provide this information to a patient before the procedure would have failed in an obligation or duty to the patient. Whether the situation is an emergency or not can also play a role in what was required of a doctor before performing a procedure. For example, a patient brought into the emergency room who cannot speak to give consent and who needs immediate life-saving treatment will generally be presumed to have consented to basic life-saving care. In determining whether the patient would have consented to the treatment once given all of the information, it is necessary to think about what a reasonable person would have done in the same situation. For instance, if the treatment was the only way to save the patient's life, and the patient would otherwise have died, it is very likely that any reasonable person would agree to the treatment regardless of the risks. If, on the other hand, it was a high-risk cosmetic elective procedure, then it would be reasonable to assume that many people would decline the procedure if fully informed of the risks. Finally, it is important for the injured patient to be able to prove that he or she was harmed as a direct result of the doctor's failure to obtain consent. Sometimes, it is difficult to determine exactly what harm occurred because of the patient's underlying medical problems and what harm resulted from the treatment that was given without proper consent.
A Chicago Medical Malpractice Lawyer Can Help You
Medical malpractice cases based on a lack of informed consent, a lawyer from Salvi, Schostok & Pritchard P.C., can help you to find your witnesses, gather your evidence and present your case in a compelling way. We understand the intricacies and ins-and-outs of a medical malpractice case based on the absence of informed consent. We assist clients throughout Chicago and Illinois. We are ready to put our legal knowledge and experience to work in building a strong case on your behalf. To schedule a free consultation, call us today toll-free or contact us online.
Sources: