Chicago Surgical Error Lawyer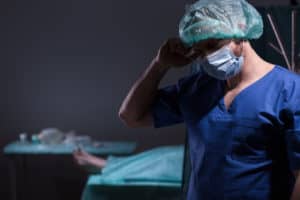 Surgery of any kind carries a risk of injury. Regardless of the surgeon or the patient's medical condition, unforeseen complications may arise or adverse reactions may occur. But there's a difference between an unavoidable complication and a preventable error by a doctor, nurse or other health care provider.
A study published by Brigham and Women's Hospital and the Harvard School of Public Health said one half to two thirds of adverse events reported by hospitals are attributable to surgical care, and more than half of these events appear to have been preventable. But instead of being prevented, too many of these surgical errors resulted in permanent disability and patient death.
If you have been injured or a loved one has been injured or died from a surgical error, you have the right to hold the at-fault party accountable. To learn how the surgical medical malpractice lawyers at Salvi, Schostok & Pritchard P.C., can help you, call us today toll free or contact us online today. We can provide a free, no-obligation consultation. We serve clients throughout Chicago, Waukegan, Cook County, Lake County and across Illinois.
Common Errors that Injure Surgical Patients
A 2008 study by the federal Agency for Healthcare Research and Quality found that one of every 10 patients who died within 90 days of surgery did so because of a preventable error. One-third of the patients who died had been discharged from the hospital.
A 2003 study by Brigham and Women's Hospital and the Harvard School of Public Health is an eye-opening report. Thirty-eight surgeons from three Massachusetts teaching hospitals spoke to researchers about 146 adverse incidents in surgery. The surgeons said 33 percent of the incidents resulted in permanent disability and 13 percent resulted in the patient's death. The study found:
Unnecessary or inappropriate surgical procedures (13 percent of incidents)
Errors during preoperative management (27 percent)
Errors during the intraoperative phase of surgical care (beginning when the patient is moved to the operating room bed and ending with the patient's transfer to the post anesthesia care unit, or PACU) (66 percent)
Errors during postoperative care (22 percent).
The surgeons said two or more clinicians substantially contributed to errors in 70 percent of the incidents. Surgical errors unnecessarily advanced the patient's disease in 10 percent of the adverse incidents. The most commonly cited systemic factors contributing to these surgical errors were:
Inexperience / lack of competence in a surgical task (53 percent of incidents)
Communication breakdowns among personnel (43 percent)
Fatigue or excessive workload (33 percent).
More recently, the journal Perfusion, which is about cardio-pulmonary bypass (CPB) surgery, published a study in 2011 that said 55 percent of technicians who monitor bypass machines acknowledged talking on cell phones during heart surgery. Half (49.2 percent) said they had texted while in surgery. Perfusion also reported having accessed e-mail (21 percent), used the Internet (15.1 percent) or having checked or posted on social networking sites (3.1 percent) while performing CPB.
Common Types of Surgical Error
There are several types of surgical error that might be considered malpractice, depending upon how and why the mistake was made. These include:
Pre-Operative Error – Preparation of a patient for surgery may include a specific diet, medication and specific instructions for the patient to follow. Here, problems stemming from miscommunication are most common.
Anesthesia Error – Anesthesia administered during surgery to prevent pain is relatively safe when given correctly. Errors in dosage or the type of anesthesia administered can create serious complications, including nerve damage, stroke or heart attack.
Wrong-Site Error – Performing a surgery on the incorrect body part is a mistake that should never be made by a medical professional, yet these mistakes do occur.
Organ Puncture / Perforation – Puncturing or perforating an organ with a surgical instrument during a procedure can damage the organ and cause long-term health problems. 
Post-Operative Error – When patients are not adequately treated and observed after surgery, complications can include infection, blood clots, internal bleeding, heart problems, and illness contracted during recovery.
A surgical error attorney with experience in medical malpractice claims can help evaluate the circumstances of your injury or the death of a loved one due to a surgical procedure. At Salvi, Schostok & Pritchard P.C., our medical malpractice attorneys can work with accredited medical experts to determine whether healthcare standards were met, and we can advise you of your legal options.
Contact Our Illinois Surgical Error Lawyers Today
There are strict deadlines for filing medical malpractice lawsuits. So, please don't delay in taking action to protect your rights. If you were injured or a loved one died as the result of a surgical error, contact the Chicago surgical error lawyers of Salvi, Schostok & Pritchard P.C., today for a free, no-obligation consultation. Call us at today toll free or fill out our online form. We represent surgical error victims throughout Chicago, Waukegan, Cook County, Lake County and across Illinois. We can help.