Sharing the Road Safely With Motorcycles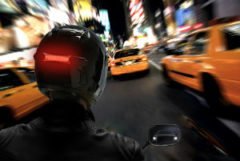 A few years ago, researchers in Florida released a study of the causes of motorcycle accidents in that state. As The Orlando Sun Sentinel reports, the researchers found that in 60 percent of the crashes that involved a motorcycle and another vehicle, the driver of the other vehicle was at fault. In other words, the majority of motorcycle crashes resulted from the negligence of car, truck and other motor vehicle drivers.
The study underscores the importance of drivers learning how to share the road safely with motorcyclists. In order to do your own part to make our roads in Chicago and throughout Illinois safer for motorcyclists, here are four basic tips you should follow:
Never try to share a lane with a motorcycle. Motorcycle riders in Illinois enjoy the same rights as the drivers of any other vehicle on the road. This means that motorcyclists are entitled to use of the full lane. If you try to share or "split" a lane with a motorcyclist, you infringe on that right and – more importantly – you greatly raise the risk of getting into a sideswipe collision or running the motorcyclist off the road.
Use caution when you pass a motorcycle. You want to avoid blowing straight past a motorcycle when you try to pass one. Motorcycles can be susceptible to the wind your larger vehicle creates when it goes past. This can cause the motorcycle rider to veer off. In extreme cases, the rider may lose control of the bike. Additionally, because passing motorcyclists typically happens on busy two- or three-lane highways, the potential to cause a multiple-car accident is high if you fail to use caution when you pass.
Avoid tailgating a motorcycle. Motorcyclists often need to stop suddenly or swerve in order to avoid gravel, potholes or slick spots in the road. If you leave enough following distance between your car and the motorcycle, you will allow the motorcyclist to maneuver around the hazard safely. If you do not, then you run the risk of causing a severe or fatal rear-end collision.
Check your blind spots before turn or change lanes. Motorcycles are smaller and less visible on the road than typical passenger vehicles. So, it is easy to lose a motorcycle in your blind spots. For this reason, you should always do a quick look in your mirrors and check your blind spots before you make a turn or switch into another lane. Additionally, use your turn signals. Motorcyclists – like any other vehicle driver – need to know your intentions.
Our Chicago Motorcycle Accident Attorneys Can Help You
If a car, truck or other vehicle driver caused an accident because the driver failed to safely share the road with your motorcycle, then you have the right to seek full and fair compensation for your injuries and losses. The motorcycle accident attorneys of Salvi, Schostok & Pritchard P.C. can help you to seek the justice you deserve. To learn more and receive a free review of your case, contact us today through our offices in Chicago and Waukegan.