Chicago Catastrophic Injury Lawyers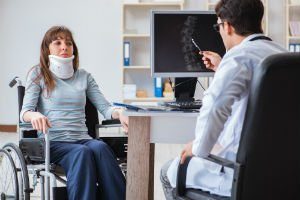 If you suffer any type of injury in an accident, it can have serious consequences. Catastrophic injuries, however, tend to have especially devastating repercussions. They forever change the lives of victims and their families. For this reason, it is important for those who suffer catastrophic injuries as a result of someone else's negligence to get legal help from an experienced catastrophic injury lawyer.
At Salvi, Schostok & Pritchard P.C., we understand the significant physical, emotional and financial toll that serious injuries take on victims and their families. We dedicate ourselves to helping those who were injured in accidents through no fault of their own to recover compensation from the at-fault parties who caused their injuries. In fact, we have been fighting for compensation for clients in Chicago and throughout Illinois for almost 40 years. Our experience, resources, and dedication have helped us secure some of the largest verdicts and settlements of their kind in the state, with 238 of our cases receiving awards of $1 million or more.
To find out more about how our legal team can help you, contact us today.
What Is a Catastrophic Injury?
No single definition exists for "catastrophic injury" in Illinois. However, these kinds of injuries generally include serious damage to the spinal cord, brain, and internal organs. The injury typically is severe enough to require rehabilitation, surgery, and in some tragic cases, a lifetime of care. These injuries commonly result in permanent disfigurement or disability. The most common types of catastrophic injuries that afflict accident victims are:
Traumatic brain injury, which is usually the result of the head forcefully striking another object, causing damage to brain tissue
Spinal cord injury, which involves the pinching or lacerating of the bundles of nerves in the spine that control movement and sensation
Amputations, which involve lacerations so severe that they sever the skin, muscle, tendons, and bone
Burns, which occur when the body's tissues are damaged due to exposure to heat, radiation, chemicals, or electricity, although most burns occur after coming into contact with hot liquids, steam, flammable liquids and gases
Soft tissue damage, which involves injury to the muscles, tendons, and ligaments and which can result in swelling, bruising, severe pain, and in some cases, disability and impairment
Internal organ damage, which occurs when a serious blow causes the organs to swell and can lead to internal bleeding
Hypoxia, which occurs when one part of the body such as the brain can obtain only a reduced amount of oxygen, or anoxia, which involves a complete lack of oxygen to the brain (it can result in permanent brain damage or death).
Treating catastrophic injuries is difficult, painful and often expensive. In many cases, even after receiving treatment, victims are required to undergo months or years of grueling therapy and rehabilitation. These costs can quickly add up, leaving victims and their families struggling to pay off mounting medical debt. At Salvi, Schostok & Pritchard P.C., we use our knowledge of medical issues, care needs and the cost of treating catastrophic injuries to seek the compensation that will help our clients begin the long road to recovery.
What are the Costs of Catastrophic Injuries?
Catastrophic injuries tend to cause severe damage, which requires extensive medical treatment to repair. For instance, many accident victims suffering from organ damage require multiple surgeries to repair blood vessels and puncture wounds. These surgeries are complex and can easily result in complications that must also be addressed.
Unfortunately, even after receiving treatment, many catastrophic injury victims suffer from long-term disability and require ongoing medical care, rehabilitation, physical therapy, and prescription medications. Many are also unable to work. So, they are burdened by the expensive cost of treatment in addition to lost income and diminished earning ability. For example, the National Center for Biotechnology Information estimates that spinal cord injury victims spend hundreds of thousands of dollars a year for treatment, nursing care, and assistive medical devices.
Costs continue to rise for those who cannot work as a result of their injuries. In these cases, it is especially important for accident victims to speak with an attorney who can help them to recover damages in an amount equal to the wages that they lost because they were forced to take time off. In particularly serious cases, where an injured party is not able to return to work at all or must find lower paying work as a result of his or her injury, the at-fault person or entity who caused the accident could be required to compensate the victim for the amount that he or she would have been expected to earn if the accident had not occurred.
How Can a Lawyer Help with Your Catastrophic Injury?
Many Illinois residents who are involved in accidents don't know what to do when they severely injured. This is where the guidance of an experienced attorney from Salvi, Schostok & Pritchard P.C. can be crucial. We will have the means and experience to help you to seek compensation for your losses.
Specifically, a catastrophic injury lawyer from our firm can investigate your case to determine who was liable. This usually involves:
Analyzing pictures and video from the scene of the accident
Obtaining statements from eyewitnesses who saw the accident
Thoroughly reviewing your medical records
Consulting with highly knowledgeable experts who can reconstruct the accident and demonstrate who was at fault.
Once we have completed our investigation, we can work with you to pursue a settlement fully and fairly compensates you or, if necessary, take your case to trial. Our firm has a history of success, including many record-setting verdicts and settlements. We can put that experience to work for you.
Our Chicago Catastrophic Injury Attorneys Are Here for You
At Salvi, Schostok & Pritchard P.C., we have helped Illinois catastrophic injury victims and their families to recover compensation for their injuries for almost four decades. To learn more about how we can help you with your own case, please contact us online. We will provide a free consultation with one of our dedicated attorneys. We work on a contingency fee basis, so you won't owe us anything unless we recover compensation for you.