How a Personal Injury Lawyer Can Help You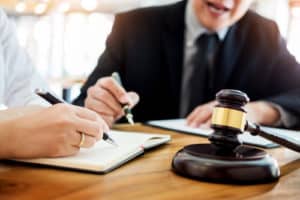 Someone else hurt you through their careless or reckless actions. Still, you may be unsure about whether you should pursue a personal injury lawsuit. The process may seem to be too difficult and time-consuming to take on when you have to deal with ongoing pain, treatment and medical bills.
However, with help from an experienced and compassionate Chicago personal injury lawyer, you will find that you can get through the process and pursue a better future. In fact, the decision to hire a lawyer may end up being one of the best decisions that you make for you and your family.
At Salvi, Schostok & Pritchard P.C., we want you to consider the following ways in which a lawyer can help you if you are a personal injury victim:
1. A lawyer will explain your case to you.
If you have never been hurt in an accident before and filed an insurance claim or personal injury lawsuit, then you may not be familiar with how the process works. For instance, you may have questions such as:
When you work with a lawyer, the lawyer will review your case, explain your rights and options and answer all questions you may have. At Salvi, Schostok & Pritchard P.C., for instance, we won't try to confuse you or speak in "legalese." We will talk with you in a down-to-earth way and make sure that you understand your case and the progress we are making on your behalf.
2. A lawyer will fully investigate your accident.
The preparation of a personal injury claim requires skill, experience and resources. A lawyer will know how to gather, collect and analyze evidence that proves how your accident happened and who should be held responsible for your injuries. The lawyer may also take steps to ensure that the other party or parties in a personal injury case do not destroy or tamper with evidence. Additionally, the lawyer will track down your medical records and, perhaps, review your case with medical experts in order to determine the full nature and extent of your injuries.
3. A lawyer will fully calculate your damages.
Establishing who should be held liable for your injuries is only one part of the challenge in a personal injury case. You also need to document and calculate the losses that you have suffered, including:
Your lawyer will carefully review all records in your case, consult with experts and conduct additional research to calculate the amount of damages that you should be entitled to recover in your case. Additionally, the lawyer will determine all sources of compensation that can provide the financial recovery that you deserve. For instance, if you were hurt in an auto accident, several different insurance policies may cover your losses.
4. A lawyer will deal with the insurance company for you.
An insurance company may pester you after an accident. The insurer may ask you for a statement, ask for permission to see your medical records or make an offer to settle your case. When you work with a lawyer, you will not have to deal with the insurance company. If an insurance representative calls, you can simply refer the insurer to your lawyer and get back to your life.
The lawyer will deal directly with the insurer on your behalf, protect your rights and interests and seek the maximum amount for you. If you receive a settlement offer, the insurer can help you to evaluate it and provide frank advice that will help you to decide whether you should accept the offer.
5. If necessary, a lawyer will fight for you in court.
Most personal injury cases can be resolved through a settlement. However, if the other party or parties deny responsibility for your injuries or challenge the amount that you seek in damages, your case will likely need to go to trial. You will benefit greatly from having an experienced litigator on your side who will know how to fight for you in the courtroom.
6. A lawyer will resolve your case as quickly as possible.
Like many personal injury victims, one of your main goals will be to simply resolve your case and move on with your life. A lawyer will move as efficiently as possible to reach a settlement or verdict in your case (but should never rush or pressure you into accepting a settlement). Once a lawyer obtains a settlement or verdict on your behalf, the lawyer will work quickly to collect and distribute the funds that you are owed.
7. A lawyer will not charge you anything unless you recover compensation.
You may be concerned about your rising medical expenses and other costs associated with your accident. However, you should not have to worry about paying a lawyer unless your case is successful. At Salvi, Schostok & Pritchard P.C., we work on a contingency fee basis. This means that you will pay us only if we secure compensation for you. Our legal fees will represent an agreed-upon percentage of your recovery.
Get Help from a Lawyer at Salvi, Schostok & Pritchard P.C.
At Salvi, Schostok & Pritchard P.C., we use our talent, experience, and resources every day to help personal injury victims and their families to get back on their feet in Chicago, Waukegan and throughout Illinois, including many clients who were, at first, intimidated by the idea of taking legal action. In more than 260 cases, we have secured a settlement or verdict of $1 million or more for our clients, and in 2017, we ranked among the top three law firms in the Chicago Lawyer Settlement Survey. To learn more about how we can help you, call or reach us online today and receive a free and confidential consultation.