Negligent Premises Security Attorneys in Chicago Illinois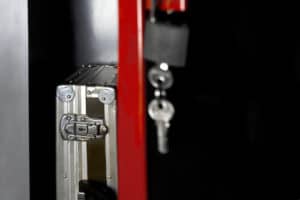 Property owners and businesses are required by law to provide adequate security to prevent foreseeable criminal activity on their premises. If they fail to implement reasonable security measures, businesses and property owners could be held liable for damages in an Illinois negligent security lawsuit if someone is the victim of a crime on their property.
Negligent security cases are a form of premises liability action that focuses on the duty property owners and businesses owe to the public to take reasonable steps to address known security risks.
The attorneys of Salvi, Schostok & Pritchard P.C., are exceptionally knowledgeable about the legal responsibilities and liabilities of businesses and property owners that provide inadequate security for their customers, opening the door to criminal violence.
For a free consultation, contact our Illinois injury lawyers today in Chicago or Waukegan at 312-372-1227.
Liability for Illinois Business and Property Owners
Negligent businesses or property owners can be held liable for injuries related to virtually any type of criminal violence, including battery, sexual assault, rape, strong-arm robbery and murder.
If you or a loved one has been the victim of a violent attack, you could be entitled to recover financial compensation for your physical and psychological injuries in situations where a business or property owner negligently failed to provide adequate security measures. The level of security required under the law depends on several factors, including the history of past crimes on the site and the general level of criminal activity in the neighborhood — even if previous crimes were different from the one in your case.
Depending on the circumstances, a business or property owner could be found liable for providing inadequate security if the following conditions were present:
Broken or missing locks;
Insufficient lighting;
No surveillance cameras;
No security guards or improperly trained guards;
Failure to run background checks on employees;
Faulty alarm systems or no alarms at all;
Improperly secured entrances and exits;
Failure to monitor security systems or emergency call boxes;
Inadequate crowd-control measures;
Failure to remove intoxicated or violent customers, visitors or guests; and
Failure to comply with industry standards for security.
These are just a few examples of what could be the basis for an Illinois negligent security lawsuit. Many of the security requirements will depend on the type of establishment and its location. For example, a bar in a dangerous neighborhood would be required to have tighter security than a beauty shop in a low-crime district.
Examples of Negligent Security
Some examples of the types of businesses and organizations that could be the subject of an inadequate security cause of action include:
Bars, restaurants, lounges and clubs;
Shopping centers, malls, supermarkets and other retail outlets;
Movie theaters;
Sports and entertainment arenas;
Schools, universities and daycare centers;
Churches, synagogues and other religious centers;
Office buildings;
Parking lots and garages;
Banks and ATM kiosks;
Hospitals and nursing homes;
Amusement parks and municipal parks;
Swimming pools and sports facilities; and
Train stations, airports and bus stations.
You could be entitled to compensation for medical bills, lost wages, rehabilitation costs, psychological trauma, pain and suffering and more if it is shown that the property owner or business was negligent in failing to provide adequate security. It is important to talk to a qualified Illinois negligent security attorney such as the ones at Salvi, Schostok & Pritchard P.C., as soon as possible after the incident so that important evidence doesn't disappear. You should also avoid discussing the security aspects of the crime with anyone other than the police.
Contact Our Illinois Premises Security Lawyers
To learn more about our qualifications and experience, or to learn about the merits of a case concerning an injury caused by negligent security, please contact Salvi, Schostok & Pritchard P.C., today for a free, no obligation consultation. Our firm has convenient office locations in downtown Chicago and Waukegan, Illinois. We also have a network of lawyers across the nation to assist you with your case. Contact us today at 312-372-1227.