Chicago Drowning Accidents Attorney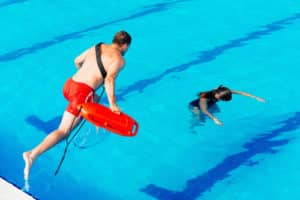 Nothing beats a day at the swimming pool during the hot summer months in Chicago. However, a fun outing can quickly turn tragic if the negligence of a pool owner or supervisor leads to a drowning, near-drowning or other type of accident. Unfortunately, these incidents are far too common – and they often involve children. As the Centers for Disease Control and Prevention reports:
Ten people die every day in our country in drowning accidents, including two children age 14 and younger.
For every child that dies in a drowning accident, another five children require emergency department care for non-fatal drowning-related injuries.
More than half of all drowning victims treated in emergency rooms need hospitalization or specialized care for injuries such as brain damage.
For more than three decades, the attorneys of Salvi, Schostok & Pritchard P.C. have provided skilled and compassionate legal representation to personal injury victims and their families in Chicago and throughout Illinois. In more than 235 cases, our firm has secured an award of $1 million or more on our client's behalf. If you or your child suffered harm in a drowning accident, we will put that experience to work for you and pursue the justice and compensation you deserve. Call or reach us online today and let us review your case in a free consultation.
What Are Common Causes of Drowning Accidents in Chicago?
Drowning accidents, especially those that involve children, most frequently occur at swimming pools. These pools can be found in backyards, apartment complexes, motels, country clubs and water parks in our area. Additionally, the Chicago Park District manages 77 public pools located throughout the city, as well as 14 pools in public schools. Drownings and near-drownings commonly occur when the owners and/or operators of these pools:
Do not properly inspect and maintain the pool and pool equipment (including ladders, slides, diving boards, pumps, filters and drains)
Fail to install or maintain gates and fences that will keep children out
Allow the pool to become overcrowded
Provide inadequate supervision (such as having no lifeguards, too few lifeguards or lifeguards who lack proper training)
Lack proper safety equipment (such as flotation devices or ring buoys).
In some cases, a pool is dangerous because of the way it was built. For instance, any pool with a depth greater than four feet must comply with City of Chicago Department of Buildings guidelines. Those guidelines require that a pool have:
An unobstructed walking area that is at least six feet wide, extends around the pool and features a non-slip surface
A fence that is at least five feet tall that completely encloses the pool and has gates equipped with self-closing and self-latching devices at the top of the gates, making them "inaccessible to small children."
However, drownings can also occur at one of several lakes throughout Cook and Lake counties, many of which feature private and public beaches. Boating accidents can lead to drowning as well. Many of these accidents result from the boat operator's careless and reckless behavior, including boating without proper training or boating while impaired by alcohol and/or drugs. In fact, the CDC reports that 70 percent of all deaths associated with water recreation involve alcohol use.
How Can a Swimming Pool Accident Lawyer Help You After a Drowning Accident?
A drowning occurs when water gets into a person's lungs. Usually, this happens because the person was submerged in water for a long period of time. Not all drownings result in death. Some people call these accidents "near-drownings." If a person survives a drowning, he or she may be left with permanent brain damage due to a loss of oxygen that occurred during the traumatic event. This is especially tragic if the victim is a child who is left with lifelong physical and/or cognitive disabilities.
At Salvi, Schostok & Pritchard P.C., we help drowning victims and their families by thoroughly investigating their cases and determining who should be held liable for their physical, emotional and financial damages. In some cases, a pool owner and pool supervisor, if separate parties, may both be liable. The company that designed and/or constructed the pool or the manufacturer of defective pool equipment could also potentially be held to account in a personal injury or wrongful death lawsuit. We identify all potentially liable parties in order to maximize the amount of our client's financial recovery.
If the drowning accident occurred in a private backyard pool, we realize victims may be hesitant about taking legal action. This may be because the pool owner is a friend or neighbor. However, a person's homeowner's insurance – not his or her personal assets – typically provides the compensation in a drowning accident lawsuit.
Our attorneys are skilled, aggressive negotiators. They will carefully prepare a settlement demand on your behalf and pursue full and fair compensation for damages such as:
As Our Results show, the legal team of Salvi, Schostok & Pritchard P.C., will be prepared to fight for you at trial if that is what it takes to pursue the compensation that you and your family deserve. You will pay no fees unless we secure a settlement or verdict for you.
How Long Do You Have to File a Drowning Accident Lawsuit in Illinois?
As you consider taking legal action after a drowning accident, you should pay close attention to the Illinois statute of limitations that applies to personal injury and wrongful death lawsuits. Generally, you must file a lawsuit within two years after the date of your injury or within two years after a loved one's death. Because it takes time to investigate and prepare a case, you should contact an attorney as soon as you are ready to take legal action.
Our Chicago Drowning Accident Attorneys Can Help You Today
If you or a loved one suffered harm in a drowning accident in Chicago, Waukegan or elsewhere in Illinois, you can count on Salvi, Schostok & Pritchard P.C., to provide the caring and competent legal representation that you deserve. Call or reach us online today and allow us to provide a free, no-obligation consultation.