Distracted Driving Truck Accident Lawyers in Chicago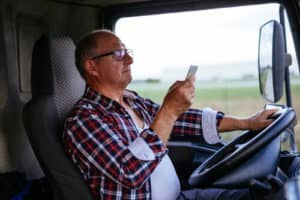 At Salvi, Schostok & Pritchard P.C., we have experience investigating truck accidents in Chicago and across Illinois, including those involving tractor-trailers. As we have discovered, a common cause of vehicle accidents is driver distraction.
When a driver talks on his cell phone, 37 percent less of his brain energy is focused on driving. If that same driver were to send or read a text message while traveling at 55 mph, he could drive the distance of an entire football field without his eyes on the road.
These statistics from Distraction.gov are scary enough when you think about the driver of a passenger vehicle driving while distracted. When it is the driver of a big rig that might weigh as much as 80,000 pounds, the idea of a driver focusing on anything besides the road is downright terrifying.
If you or a loved one has been injured due to a distracted driving truck accident in Chicago or anywhere else in Illinois, you may be able to take legal action against the truck driver and the trucking company that employs him. To learn how we can help you, call Salvi, Schostok & Pritchard P.C., at our toll-free number or complete our online form. We provide free initial consultations.
Types of Driver Distractions
Commercial truck drivers must keep all of their attention on driving safely. But there are many distractions that could take the focus away from where it needs to be.
When the truck accident lawyers of Salvi, Schostok & Pritchard P.C., investigate your crash, we will look at several different types of distraction as the potential cause, including:
Texting or using a smartphone/cell phone – Nine percent of commercial drivers in fatal distracted driving truck crashes were using their cell phones at the time.
Drinking or eating – Truckers often eat or guzzle down coffee as they drive, which can take their focus off the task of driving.
Grooming – It is common for truckers to brush their hair or do other grooming activities as they drive since truckers spend so much of their lives on the road.
Reading maps or using a navigation system – Almost all truckers today have a GPS device to make it easier to find routes or to know where to go.
Watching videos – Many trucks have DVD players and other entertainment devices that should only be used during rest breaks and never when driving.
Truck drivers who travel for long distances may find themselves turning to these behaviors out of boredom or necessity, increasing the risk of a distracted driving crash.
The Laws on Distracted Driving for Commercial Drivers
While some types of behavior are difficult or impossible to make illegal, the Federal Motor Carrier Safety Administration (FMCSA) has addressed one of the most dangerous distractions – cell phones.
According to the FMCSA, texting and driving is completely banned. Truckers can neither send nor receive texts when they are driving. Commercial motor vehicle drivers subject to the ban include drivers of interstate trucks, drivers who transport hazardous materials (HAZ-MAT) and bus drivers.
While a commercial driver is permitted to talk on a cell phone, the phone must be mounted close to the driver's seat. A hands-free device must be used at all times.  The driver may not reach for or hold the mobile phone. The driver must be able to dial the phone by pressing only a single button. The driver must also be able to operate the phone while restrained in a properly-adjusted seat belt.
If a driver violates the laws on texting or cell phone use, he could lose his commercial license and be disqualified from continued work as a commercial truck driver. The driver could also face civil penalties of as much as $2,750.
Trucking companies and motor carriers are also subject to certain rules intended to prevent distracted driving. For example, motor carriers and trucking companies may not require their drivers to text or to use a hand-held phone while driving. They must not allow their drivers to voluntarily do these dangerous behaviors either.  A motor carrier who violates the laws could face civil penalties of as much as $11,000.
Our Chicago Distracted Driving Truck Driving Accident Lawyers Can Help You
If a truck driver violates the laws or makes the careless decision to pay attention to something besides the road, an accident may result. If a crash happens, the driver who broke the distracted driving laws or who was negligent can be held legally responsible.
In addition to filing a lawsuit against the truck driver, it is also possible for an injured victim of a distracted driving truck crash to take legal action against the company that employs the driver. The company could be viewed as negligent in their own right if they encouraged driver distraction, looked the other way or had no policy in place on distracted driving. The company could also be held liable simply by virtue of the fact that one of their employees, acting on the company's behalf, did something dangerous.
A truck driver and trucking company responsible for a distracted driving crash can be made to compensate you for all of your losses if they are found liable. This includes medical costs, pain and suffering damages, lost wages compensation and payment for damages arising from emotional distress. If death results from the accident, then the family members of the deceased may file a lawsuit for wrongful death damages.
In any situation where you or a loved one was hurt in a distracted driving truck accident, an experienced truck accident attorney at Salvi, Schostok & Pritchard P.C., can help you to file a case and seek the compensation you deserve. To learn more about how we can assist you in taking legal action after a distracted driving crash, give us a call today at our toll-free number or use our online contact form.
Sources: