Vernon Hills Personal Injury Lawyer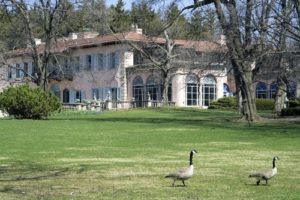 Vernon Hills is rated as one of the best places to live in Lake County, Illinois, and for good reason. It contains some of the best public schools in the county. The suburb is ranked as one of the best for families. Crime rates are low. And the suburb is located less than an hour's drive to downtown Chicago.
But regardless of how much you love this area, the risk of accidents and injury still exists. Unfortunately, car accidents, slip and falls, and other serious accidents affect more people than they should in Vernon Hills, leaving many with severe, long-term disabilities. If you have been involved in an accident, a Vernon Hills injury lawyer at Salvi, Schostok & Pritchard, P.C., can help.
Contact us today to schedule your free consultation.
How Can Our Vernon Hills Injury Lawyer Help?
Our law firm believes that those who have been injured due to others' negligence deserve to be compensated, in full, for their losses. When you hire our legal team, we can help by investigating your case, identifying the liable party, calculating your damages, and aggressively negotiating for a settlement. We also have years of combined experience in litigation and have an impressive track record of securing full jury verdicts.
Our Vernon Hills personal injury practice areas include:
Slip and falls
Premises liability
Negligent security
Medical malpractice
Birth injury
Nursing home neglect
Car accidents
Commercial vehicle and truck accidents
Motorcycle accidents
Bicycle accidents
Pedestrian accidents
Defective products
Dangerous pharmaceuticals
Dog bites
Wrongful death
If you have a question about whether we can help you, please note that we offer free initial consultations at a time and location that is convenient to you. These are no-obligation consultations, so there is no risk to scheduling a time to meet with us.
About Vernon Hills: Our Home, Its History, Economy, and Points of Interest
Serving as the home of just over 20,000 people, Vernon Hills is not only a place where many live, but also serves as a retail hub for many surrounding cities, including Lake Forest, Libertyville, Long Grove, Buffalo Grove, and Lincolnshire.
Vernon Hills History
Vernon Hills' history is rooted in farming. The land that is now Vernon Hills began as a 200-acre farm in 1851. It was not until 1950 that the land was sold and converted into a golf course. By 1980, the population of Vernon Hills had increased to nearly 10,000 people, and 20 years later, it had burgeoned to more than 20,000.
Vernon Hills Economy
Vernon Hills takes up just 7.91 square miles, of which a very small proportion is water. Despite this, however, Vernon Hills maintains a retail center that serves surrounding areas, as well as a robust economy and a number of top employers. These employers include the Hawthorn Mall, Zebra Technologies, American Hotel Register, Mitsubishi Electric Automation, CDW, and Cole-Parmer. Another provider of jobs and a driver of economic growth in Vernon Hills is Mellody Farm, a now retail center that used to be a soybean field. Mellody Farm hosts many retail businesses and restaurants.
The majority of residents of Vernon Hills are middle-to-high-income earners, with the median income for a family nearly double the national average. Only about 1.2 percent of the population of Vernon Hills falls below the poverty line. A large percentage of residents are married, and many have kids under the age of 18 living at home.
Vernon Hills Points of interest
Whether you are traveling to or living in Vernon Hills, you are likely to find a number of highly enjoyable things to do. The official website of the Village of Vernon Hills recommends visiting the convention and visitors' bureau, the Cuneo Mansion & Gardens, a golf course, or one of the many forest preserves that can be found in Lake County. If you like to eat and shop, you will also find numerous fine dining establishments and shopping for souvenirs, household items, clothes, and much more. Trip Advisor makes similar suggestions, specifically naming the Hawthorn Mall, Vernon Hills Aquatic Center, Beerhead Bar and Eatery, White Deer Run Golf Club, and AMC Hawthorn 12 as top attractions.
Important Places in Vernon Hills, IL
If you live in Vernon Hills, it's important that you know some of the suburb's most important places for getting medical care, talking to public officials, or pursuing a civil action.
Hospitals
If you need treatment at a hospital, consider:
Lake Forest Hospital
Hawthorn Surgery Center
Northwestern Medicine Vernon Hills
Healthsouth Surgery Center of Hawthorne
Courts
If you are filing a personal injury lawsuit, you will need to know where the courts are and with which court you should file all necessary paperwork. The 19th Judicial Circuit Court of Lake County, Illinois, is located at 18 N. County St. in Waukegan, Illinois.
Government buildings
For all citizens, it is important to know where official business is conducted and where you can go if you need to meet with a public official or acquire more resources. The clerk's office is one such place, handling passport processing, business licensing, permitting, voter registration, notary services, and more. Vernon Hills Village Hall is located at 290 Evergreen Drive in Vernon Hills. You can also call directly at 847-367-0880.
Reach Out to Our Vernon Hills Injury Lawyers Today
Are you a resident of Vernon Hills who has suffered a serious injury due to another's negligence? If so, you may have a personal injury claim. Our Vernon Hills injury lawyers at Salvi, Schostok & Pritchard, P.C., are here to help. Our personal injury attorneys in Vernon Hills have decades of combined legal experience. We also work on a contingency fee basis, which means you only pay attorney fees if we win compensation for you.
Over the years, our respected personal injury law firm has recovered more than $1.5 billion in settlements and jury verdicts for our deserving clients. To learn more and to schedule your free consultation, please reach out to us directly by phone or online at your convenience.