Commercial Litigation Attorneys in Chicago, Illinois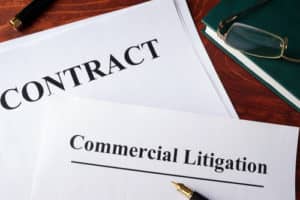 Commercial litigation is a complex area of the law. It covers many different disputes that arise when dealing with corporate and commercial entities.
Whether you are a corporation taking legal action, a corporation defending itself against a lawsuit or a plaintiff who wants to stand up to a major corporation that you believe has wronged you, it is important to have a strong legal advocate who can handle the demands of a commercial dispute.
At Salvi, Schostok & Pritchard P.C., our Chicago commercial litigation attorneys have the skill and experience you need when involved in business litigation. Our attorneys have litigation skills in many different types of commercial disputes. We have represented both plaintiffs and defendants at the trial court level and on appeal. Allow us to put our skill and experience to work for you. Call us today at 312-372-1227 or use our online form to schedule a free and confidential consultation.
Our Attorneys Have Experience In A Wide Range of Business Disputes
The knowledgeable business litigation attorneys at Salvi, Schostok & Pritchard P.C., have experience in a number of different types of cases arising under commercial law, including:
Breach of fiduciary duty
Fiduciaries have the highest duty under the law and must always put the rights of the beneficiary first. For instance, a trustee must always act in the best interests of the person the trust was set up to benefit. When the fiduciary fails in his duty, he can face financial liability. We represent both fiduciaries who have been accused of breaching a duty and those whose trust was abused by a fiduciary's lack of responsibility.
Tortious interference
When a third-party interferes with your business contracts or relationships, this is called "tortious interference." If the interference is unjustified and costs you money, you can take action against the party.
Tortious interference may be a situation in which a third party spreads misinformation to steal an important client away. It could also include a situation where a competitor bribes a client to switch their business away from you.
If you had a valid contractual relationship or business expectancy that a third party knowingly or wrongfully interfered with, it can lead to a tortious interference claim.
Employment Discrimination
A variety of laws protect employees from being unfairly discriminated against on the basis of their "protected status." Title VII of the Civil Rights Act, for instance, prevents discrimination on the basis of race, gender, national origin and religion. The Americans with Disabilities Act protects the disabled from employment discrimination, and the Age Discrimination in Employment Act protects older Americans.
Our Chicago commercial litigation lawyers have represented both companies accused of discrimination and employees who have been wronged. We understand the laws associated with employment discrimination cases. We can put our legal knowledge of this area of commercial law to work for you.
Insurance subrogation loss recovery
When an insurance company pays out money, and the recipient receives or is entitled to receive compensation for the same thing the insurer paid for, the insured may be obligated to turn the money or the rights to the money over to the insurance company.
For instance, if you suffer property damage in a car accident that someone else causes, you have the legal right to recover payment for the damage. If your insurance company pays for the property damage, however, they acquire your legal right to the money. You can't take the money from your insurer and then go collect from the other party and keep the damages they pay you.
Subrogation can also occur in situations where your medical bills are paid by an insurer and then you collect compensation for medical costs from someone who injured you. In these instances, your insurer could claim a right to the compensation you received from the party who injured you.
Often, disputes arise about whether subrogation is appropriate or regarding how much of his rights a wronged party has to give up. We have represented both insurance companies and injured parties in subrogation actions. We can help in any subrogation case to achieve a fair and just result for our clients.
Contract-based claims and enforcements of non-competes
Contracts are promises made between two private parties that become legally enforceable. When you enter into a contract, you must perform as promised or you can become responsible for a breach of the contract and for any damages that result from your non-performance. This is true even when the contract is an employment contract and you promise not to compete with your employer for customers.
Contract cases can be complex, especially when non-competes are at issue. Courts are reluctant to enforce restraints on an individual's right to make a living. It is important for anyone who has been the victim of a breach of contract or who has been accused of a breach to have qualified legal representation.
Other Types of Business Litigation
In addition to these major types of business disputes, our Chicago commercial litigation attorneys also have experience with many other types of cases arising under business laws in the state of Illinois. These include:
Claims for equitable relief
Unfair competition claims
Business fraud
Professional malpractice
Loan dispute cases
Defective product/ product liability cases
Shareholder disputes
Trademark infringement cases
Franchise litigation or arbitration
If you have a business law issue and want help from some of the most respected and experienced commercial litigators in the Cook County and Lake County area, we can help.
Contact Our Chicago Commercial Litigation Lawyers Today
To learn more about the legal services we offer and about how we can help you with any commercial litigation you are involved in, call Salvi, Schostok & Pritchard P.C., today at 312-372-1227 or use our online form. We can provide a free and confidential consultation about your business dispute case.