Common Causes of Motorcycle Accidents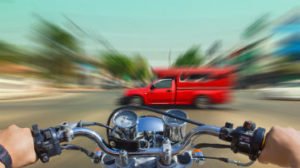 Several different factors contribute to motorcycle accidents. For instance, in 2017, the nation saw a 5.6 percent decrease in motorcycle accident-related deaths, the Governors Highway Safety Association reports. One of the main reasons for the drop: Weather, according to the GHSA. A strong hurricane season kept motorcyclists off the roads in southern states, which in turn led to fewer fatal motorcycle crashes. However, Illinois was among 18 states where motorcyclist deaths actually increased, rising 5.2 percent between 2016 and 2017. Weather, again, may have been a key factor. The Chicago Tribune reports that Illinois saw a "milder than normal February, April, September, and October in 2017."
At Salvi, Schostok & Pritchard P.C., our attorneys have extensive experience with representing motorcycle accident victims and their families in Chicago and throughout Illinois. Based on the numerous investigations that we have conducted over the years, we know that more than the weather is to blame for the majority of motorcycle crashes. Instead, it is careless and reckless drivers who either don't know how or simply refuse to share the road safely with motorcycles.
Here, we discuss seven of the most common causes of motorcycle accidents in Illinois, based on motorcycle accident statistics as well as our own experience. To discuss the specific cause of a motorcycle crash that left you with serious injuries or caused the loss of your loved one, contact us for a free consultation.
Speeding and Reckless Driving
Speeding contributes to roughly one-third of all fatal and injury crashes in Illinois each year, according to traffic accident statistics compiled by the Illinois Department of Transportation (IDOT). All too often, drivers exceed posted speed limits or go faster than they should in certain road, weather, and traffic conditions. For instance, when snow and ice are on the ground, or when traffic is congested on a busy stretch of road like the Dan Ryan Expressway, drivers need to slow down. If a driver goes too fast, the driver can easily lose control or lack the time and distance to avoid colliding with a motorcycle that suddenly comes into view.
Distracted Driving and Inattention
Illinois law prohibits drivers from texting, e-mailing or surfing the Internet while driving and from using hand-held electronic communication devices for any reason while they are behind the wheel. Still, many drivers do it. They also allow other distractions to get in the way of driving safely such as dealing with passengers or pets in the car. A distracted driver is a dangerous driver. The driver may neglect to check mirrors or fail to see a smaller motorcycle on the road before making a turn or a lane change.
Impaired Driving
Out of the 1,000 fatal crashes that occurred in Illinois in 2016, 30.7 percent involved alcohol, making drunk driving one of the leading causes of deadly traffic accidents in our state, according to IDOT. When a driver consumes any amount of alcohol, it impairs the driver's mental and physical faculties. For instance, a drunk driver may fail to see a motorcycle at an intersection, or the driver may misjudge time and distance and try to make a left-hand turn into a motorcyclist's path.
Sharing Lanes
Drivers have a duty to treat motorcycles like any other motor vehicle on the road. So, motorcycles are entitled to the full width of a lane. Many sideswipe collisions between cars and motorcycles occur when drivers try to share the lane with motorcyclists or pass them without leaving a safe enough distance. If a driver "buzzes" a motorcyclist, the motorcycle can get run off the road or hit an object such as a tree, sign or guardrail.
Making Unsafe Lane Changes
Before a driver turns or merges into another lane, the driver should check mirrors and blind spots in order to ensure that the driver does not cut off any other vehicle, including a motorcycle. Frequently, drivers in Chicago and other areas in Illinois fail to take that basic precaution. Additionally, many drivers collide with motorcycles when they fail to signal before they turn or enter a lane.
Following Too Closely
As a general rule, drivers should leave a three-to-four-second following distance between their vehicle and any vehicle in front of them. This is especially important when a driver trails a motorcycle. A motorcycle rider often must suddenly stop or swerve to avoid obstacles such as debris or potholes. If a driver follows too closely, or "tailgates," the driver can easily cause a rear-end collision with a motorcyclist.
Mechanical Defects
While driver error is a leading cause of collisions between cars and motorcycles, mechanical defects also play a major role. For instance, a crash may occur because a motorcycle has defective brakes, gears or wheels. When these types of crashes happen, it is important to examine the evidence and determine whether the crash resulted from a mechanic's negligent repairs or from a manufacturing defect.
Our Chicago Motorcycle Accident Attorneys Can Help You
At Salvi, Schostok & Pritchard P.C., we know how motorcycle crashes can result in life-changing injuries such as traumatic brain injury, spinal cord injury, broken bones, severe abrasions and soft tissue damage. Victims often face extensive medical treatment, lost income due to the inability to work and tremendous pain and suffering.
Insurance companies want to pay as little as possible to resolve motorcycle accident injury claims or to avoid paying anything at all. So, they will often try to pin the blame for an accident on the motorcyclist. This is why motorcycle accident victims should have an experienced attorney on their side who will protect their rights and challenge an insurance company's efforts to unjustly shift fault.
If you were recently injured or lost a loved one in a motorcycle crash in Chicago or elsewhere in Illinois, you can count on Salvi, Schostok & Pritchard P.C. to aggressively pursue all compensation you are due. It starts with a free consultation. Call or reach us online today to learn more about how we can help you.