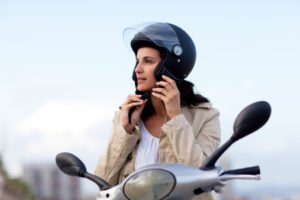 In Illinois, there is no law that requires motorcyclists to wear a helmet. However, safety advocates encourage riders to do so for their own protection. Unfortunately, no matter how safe or skilled a rider is, a dangerous motorist can cause devastating and potentially deadly injuries in a crash. Although a helmet may not prevent all injuries, it provides one more layer of protection for a rider.
At Salvi, Schostok & Pritchard, P.C., we stand up for motorcyclists, and we want Illinois riders to know the laws and how to protect themselves in the event of a crash.
Understanding Motorcycle Helmet Laws in Illinois
There are only two states in the U.S. that have no motorcycle helmet requirements ─ Iowa and Illinois. Over the past several decades, road safety organizations have successfully lobbied many state legislative bodies to make helmets mandatory for adult motorcycle riders. The scientific justification for these laws is conclusive.
"Motorcycle helmets are highly effective in protecting motorcycle riders' heads in a crash," according to the Centers for Disease Control and Prevention. Research has documented that helmets effectively lower both the number of deaths and traumatic brain injuries caused by motorcycle crashes.
With the strong statistical evidence in their favor, those arguing for stronger motorcycle helmet laws have been persuasive almost everywhere. So far, though, Illinois has resisted these reforms and maintained its status as a free-will motorcycle helmet state.
Illinois Helmet Law for Minors
Some states without mandatory helmet laws for adults have instituted laws specifically to require helmet use for minors. Riders under 18 or 21, depending on the state, may have more stringent requirements than older motorcyclists. This compromise protects younger riders, who are more likely to make rash decisions, while allowing everyone else to make their own choices. As of 2020, Illinois does not have a motorcycle helmet law for minors.
The Importance of Wearing a Helmet
Even though you do not have to wear a helmet when you ride a motorcycle in Illinois, it is a good idea to choose to do so. Many scientific studies of motorcycle crash statistics have proven that you are more likely to survive a collision or fall from your motorcycle if you wear a helmet.
If, like many Chicagoans, you rarely drive fast because you are stuck in city traffic, you may think that you do not need a bulky, expensive helmet. Unfortunately, even low-speed crashes can result in serious injuries for motorcyclists. Remember that you can't rely on your own safe driving alone. You are sharing the road with cars and trucks, many of whom have large blind spots that can obscure smaller vehicles like motorcycles. Negligent drivers, especially drunk and distracted drivers, cause crashes when they fail to pay 100 percent attention to the road.
According to the Centers for Disease Control, helmet use reduces brain injuries by between 41 percent and 69 percent. Traumatic brain injuries can have lifelong effects, from relatively minor but persistent symptoms like dizziness to severe trauma like coma and brain death. Appropriate helmet use also significantly reduces the number of crash fatalities, lowering the number of motorcycle accident deaths by 22 percent to 42 percent.
What to Look for When Choosing a Helmet
The National Highway Traffic Safety Administration (NHTSA) published a guide to motorcycle helmets that is a useful reference. Here are some things you should look for in a motorcycle helmet, according to the NHTSA:
Make sure your helmet fits the shape of your head. You may have a round oval, long oval, or intermediate oval head. Each shape requires a different helmet.
Measure your head. Use a flexible tape to measure the circumference of your skull. Be sure to circle the thickest part of your head. Compare that measurement to the manufacturer's specs and make sure they match. A loose helmet won't protect you nearly as well as a tightly fitted one.
Choose a style that works for your riding habits. If you ever go off-road, you may require a different type of helmet than if you spend the majority of your time on the highway.
Look for the Department of Transportation symbol. If the helmet has met the Federal Motor Vehicle Safety Standard No. 218, it should be marked. These helmets meet minimum requirements as outlined by the federal government.
Never try to use a bicycle helmet or costume helmet. Only choose appropriately marked and specifically manufactured motorcycle helmets.
Illinois motorcyclists are entitled to make their own decisions when they get on their bikes. Many choose not to wear helmets. However, the safest choice is to wear an appropriate motorcycle helmet that meets national standards. It is also a good idea to wear protective clothing, like rash guards, in order to prevent other serious injuries.
If you are injured in a motorcycle crash, whether you were wearing a helmet or not, you should speak with a qualified attorney as soon as possible about your legal rights.
Injured in an Accident? Contact Our Motorcycle Accident Lawyers Today
You should not have to suffer financially if you have been hurt by a negligent or reckless driver in a motorcycle crash. When you choose the experienced attorneys at Salvi, Schostok & Pritchard, P.C., we will fight fiercely for the full and fair compensation you deserve.
Our knowledgeable motorcycle accident lawyers can help you understand your legal options and what to expect in your case. Our skilled legal team handles all the details of your case from start to finish so you can focus on your recovery. Call us today or contact us online to schedule a no-obligation, free consultation.