Liability with Airbags Not Deploying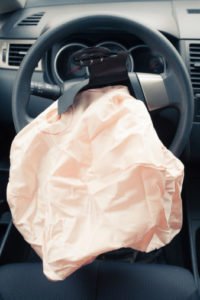 Vehicles are equipped with many different safety features these days, but one of the first to appear in cars was the airbag in the front seat. There are actually two different areas equipped with airbags in the front of a vehicle. One is in the steering wheel, protecting the driver, while the other is in front of the passenger, installed inside the dashboard of the vehicle. Often in a crash, these airbags are the last line of defense that protect the individuals within the vehicle.
What happens, though, when these airbags do not deploy? The people they are meant to protect can become seriously injured, faced with expensive medical bills while they are left unable to return to work. When this is the case, accident victims should speak to a knowledgeable Chicago product liability lawyer from Salvi, Schostok & Pritchard, P.C. about their legal rights.
To learn more, contact us today for a free consultation on your case.
Proving Liability for Airbag Deployment Failure
It is difficult for the average accident victim to determine why the airbag did not deploy and whether that was the cause of the person's injuries. Product liability lawyers, fortunately, know what to look for to determine the cause of the airbag failure and prove your case.
After you speak to a product liability lawyer from our firm, we will conduct a full investigation to collect evidence outlining the cause of your crash and what led to your injuries. During this investigation, our team will work to determine whether the airbag in your vehicle was defective, and if so, how you suffered harm as a result.
To prove the elements of your case, our attorney will use expert witnesses, such as engineers, survey teams, medical experts, accident reconstruction specialists, and product designers. Our lawyer will also take photographs of the airbags and the interior of the car to show that the airbags were not in proper condition.
Common Defects That Cause Airbags to Fail
Although it's not something any driver wants to think about, there are some common defects that cause airbags to fail. These include:
Faulty crash sensors: Vehicles equipped with airbags also have crash sensors that detect when a car has been hit. The sensors send a signal to the airbag, essentially telling it to deploy. When the crash sensors in a vehicle are faulty, it could indicate that the sensors were not installed properly, or that they were not calibrated properly.
Computer control or electrical component issues: In some cases, when the sensors do not send the signal to the airbag to deploy after an accident, the electrical system within the vehicle may be defective. The crash sensors rely on the electrical system to deliver the signal to the airbag. Vehicle manufacturers often route the wiring of the electrical system into narrow spaces, which can result in damage to the wires.
Defects within the airbag: Airbags are made up of many different components, and each one is crucial to ensuring that the airbags in a car work properly. If any one of these components is defective, it can prevent the airbag from deploying. Usually, these defects are due to a problem in the design or manufacturing of the airbag, or the manufacturer has not done adequate testing or applied proper quality control measures.
Any time a defect prevents an airbag from deploying, accident victims should speak to a product liability lawyer to learn about their options for recovering compensation for their injuries.
What to Do If Your Airbags Did Not Deploy
The most important steps to take when your airbags do not deploy in a crash include:
Report the accident: If your airbag did not deploy, you likely suffered serious injuries. Report the crash to law enforcement. A police report can also establish that the airbag did not deploy.
Seek medical attention: Certain injuries are more likely to occur than others when a defective airbag does not deploy. These injuries include whiplash, skull fractures, broken ribs, bleeding around the brain, and spinal cord injuries. It is important to have a doctor examine you and document injuries that are due to an airbag not deploying.
Document the crash: It is important that you document as much as possible. Write down the details of the crash, including the speed you were traveling at, the angle the other vehicle hit you, and any other relevant information. Take photos of your vehicle inside and out, the vehicle that hit you, the crash scene as a whole, and your injuries. Also be sure to get the names and contact information of any witnesses.
Contact an experienced lawyer: Although you are entitled to receive compensation for any injuries caused by a defective airbag, these claims are particularly difficult. An experienced product liability lawyer will know how to pursue the claim and demand the fair compensation you deserve.
Compensation in a Faulty Airbags Lawsuit
When filing a lawsuit for an accident involving a faulty airbag, you can claim any losses you incurred. The most common types of compensation in these cases include:
Medical expenses (past current, and future)
Lost income
Loss of earning capacity
Pain and suffering
Emotional distress
Out-of-pocket expenses, including transportation to doctors' appointments
Never accept a settlement or try to negotiate a claim without speaking to an experienced car accident lawyer. There are many types of damages that may be available to you, and it is important that you have a knowledgeable advocate on your side who can show what your claim is truly worth.
Contact Our Chicago Product Liability Lawyers Today
If you have been hurt in a crash and your airbag was defective, call our Illinois product liability lawyers at Salvi, Schostok & Pritchard today. We know how to determine whether a faulty airbag was to blame for worsening your injuries and we have the necessary experience to hold manufacturers accountable for the defect.
Call us today or contact us online to schedule a free consultation and to learn more about how we can help with your case.