Failure to Diagnose Meningitis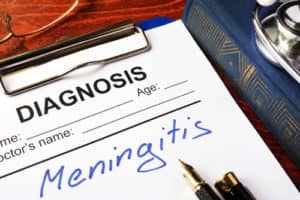 The lawyers of Salvi, Schostok & Pritchard P.C., help families in Chicago and throughout Illinois whose children suffered harm from meningitis.
Many children contract this potentially deadly disease due to the negligence of doctors, nurses and other hospital staff members. In some cases, the failure to timely diagnose and treat meningitis causes a child to suffer severe and irreversible brain damage.
Our firm brings more than 30 years of experience with handling medical malpractice claims to the families we serve. We know how to thoroughly investigate meningitis cases and to seek the answers that families deserve about their child's care. We also know what it takes to pursue fair and just compensation on their behalf.
Recently, our legal team obtained an $18.5 million settlement on behalf of a Chicago family whose child suffered permanent brain injury due to the delayed diagnosis of meningitis.
If you believe that medical malpractice impacted your child's health, contact us today to discuss your case. We will provide an immediate, free consultation. You will pay no fees unless we obtain a financial recovery for you.
What Caused Your Child's Meningitis?
Meningitis is an inflammation of the membranes that line the brain and spinal cord. The disease arises from exposure to:
Viruses – Enteroviruses, or viruses that arise in the gastrointestinal tract such as non-poliovirus and coxsackievirus, may cause viral meningitis. Measles, mumps and herpes viruses can also cause the disease. Young children and people with weakened immune systems are most at risk of viral infections.
Bacteria – Several types of bacteria can cause meningitis, including Group B streptococcus, listeria monocytogenes and Escherichia coli (E. coli). Bacterial meningitis is highly serious. The Centers for Disease Control and Prevention (CDC) reports that the disease kills nearly 500 people in the U.S. each year. Infants face a high risk of contracting the disease.
Meningitis spreads through contact with infected individuals or exposure to infected fluids, including tiny drops passing through the air.
The disease often spreads in hospitals when doctors, nurses and other staff members fail to follow basic patient safety protocol such as washing their hands, cleaning potentially infected equipment and quarantining patients who have viral or bacterial meningitis.
Individual medical professionals and medical facilities should be held liable if their failure to prevent or contain a meningitis outbreak caused your child to suffer this disease.
Why Is Timely Diagnosis and Treatment of Meningitis Important?
Meningitis – especially bacterial meningitis – must be timely diagnosed and treated, or else it can be deadly. It starts by paying attention to signs and symptoms of meningitis, particularly in an infant. The CDC reports that those signs include:
Fever
Irritability
Poor feeding
Sleepiness or trouble waking from sleep
Listlessness (lack of energy)
Jaundice (marked by yellowish skin color)
Bulging fontanelle (soft spot at the front of a baby's skull).
If you take your child to the emergency room or your child's pediatrician, the doctor should conduct a clinical examination and detect the signs of a potential infection.
The doctor should then order proper tests in order to make a diagnosis. For instance, a lumbar puncture, or "spinal tap," can be used to determine whether there is inflammation of the membranes as well as whether a viral or bacterial infection has occurred.
Based on the diagnosis, the doctor can start timely treatment such as medication, IV fluids or, in severe cases, oxygen supplementation.
Any delay in the diagnosis and treatment of meningitis can lead to severe complications, including seizures, brain damage, hearing and vision loss and problems in the heart, kidneys and adrenal glands.
What Compensation Can You Recover in a Medical Malpractice Claim?
If a young child is infected with meningitis, the child may need around-the-clock care and supervision and face a permanent physical and/or mental disability. In the most severe cases, the child may die.
If the negligence of a medical professional or hospital exposed your child to harmful viruses or bacteria, or if a doctor failed to timely diagnose and treat the meningitis, you have the right to seek just compensation for the harm you suffered.
In a medical malpractice lawsuit in Illinois, you can seek a recovery of all necessary and related past and future medical expenses, caretaking expenses, parents' lost wages, loss of a normal life, physical and mental pain and suffering and more.
If you lost your child to meningitis, you may seek a recovery of wrongful death damages that include compensation for the loss of your child's society and companionship and for your grief, sorrow and mental suffering.
Because time limits apply to medical malpractice claims, you should immediately speak with an attorney if you suspect that medical negligence contributed to your child's meningitis.
How Can Our Medical Malpractice Lawyers Help You?
Salvi, Schostok & Pritchard P.C., is one of the leading personal injury law firms in Illinois. We have secured more than $1 billion in verdicts and settlements on behalf of our clients, including 225 cases with a verdict or settlement of $1 million or more. Our legal peers have ranked our firm's equity partner among the top 5 percent of attorneys in Illinois.
We can provide a free consultation about your child's meningitis case. We will closely review your situation and answer any questions you may have.
If we agree to move ahead with your claim, we will conduct an exhaustive investigation and work hard to identify how your child was exposed to a harmful virus or bacteria and whether the diagnosis and treatment of your child met the accepted standard of medical care. We will also consult with highly qualified medical experts.
We are seasoned trial lawyers who will thoroughly prepare your case and be ready to achieve success in the courtroom. That preparation can ultimately help us to arrive at a settlement that avoids the need to go to trial and fully compensates your family, including covering all of your child's medical needs.
Get Help from Our Chicago Meningitis Attorneys Today
As experienced medical malpractice lawyers, we understand the factual and legal issues that often arise in meningitis cases. We also know how medical negligence can deeply affect children and their families. We will work tirelessly to pursue a just result for you.
Reach us today. We can provide an immediate, free consultation at our offices in Chicago or Waukegan or at a location that is more convenient for you, including your home.
Sources / More Information: