Chicago Construction Accident Lawyer
Construction work poses many dangers. In fact, construction work produced the second-highest number of fatal work injuries of any industry in 2011, the Bureau of Labor Statistics (BLS) says.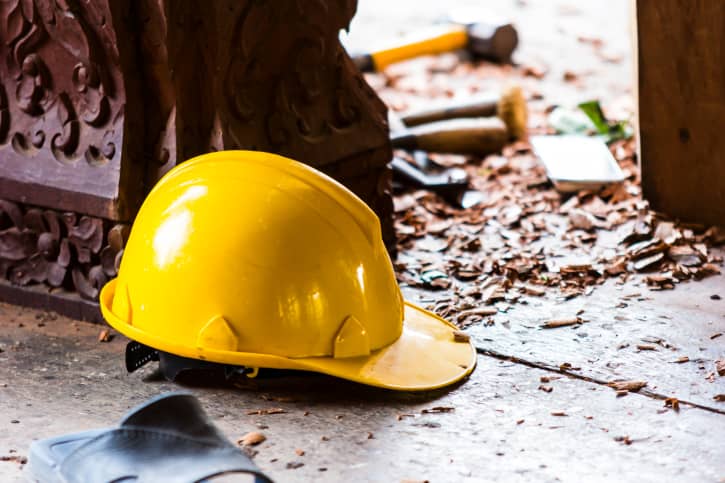 Construction workers face a higher risk of injury or death than workers in other professions. As the Occupational Safety and Health Administration (OSHA) reports, one in five worker fatalities occur in the construction industry. Many of these injuries can be traced to violations of state and federal safety regulations that are designed to protect workers.
If you or a loved one has been injured in a construction accident in Chicago or elsewhere in Illinois, contact a Chicago construction accident lawyer at Salvi, Schostok & Pritchard P.C. We can investigate your case and determine the options available to you for seeking a recovery of your medical expenses, lost wages, pain and suffering and other damages. Simply call or contact us online today to get started with a free consultation.
Construction Accident Facts
20.3% of worker fatalities in private industry in 2013 occurred in construction, or a total of 796 deaths. The four leading causes of construction worker fatalities were: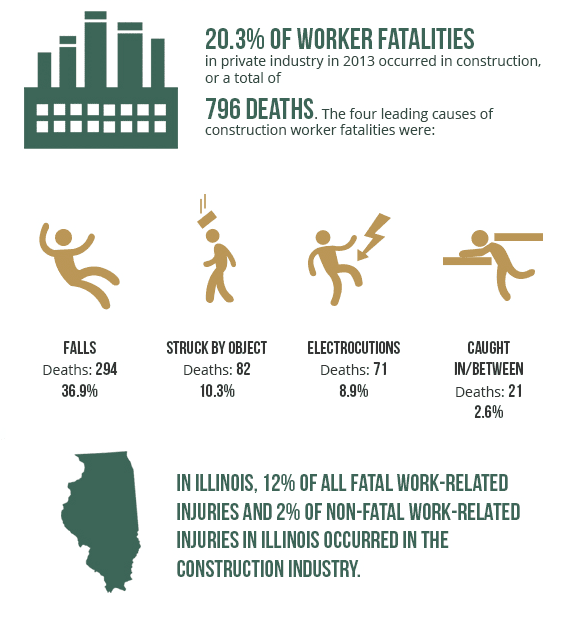 In Illinois, 12% of all fatal work-related injuries and 2% of non-fatal work-related injuries in Illinois occurred in the construction industry.
Common Types of Accidents at Construction Sites
Our law firm represents injured victims and families who have lost a loved one in all types of accidents, including but not limited to:
Falls – OSHA states that 37 percent of construction accident fatalities involve falls. Types of falls include falls from elevations, ladder falls, scaffolding falls, and falls associated with contact with equipment or machinery such as cranes or forklifts.
Struck by Object – Construction workers can suffer permanent or fatal injuries when struck by falling tools, loads being moved into the area, falling materials and similar incidents.
Electrocutions – Contact with high voltage is one of the most common causes of death in the construction industry. OSHA states that 8.9 percent of all worker deaths result from an electrical accident.
Crush Injuries – Accidents described by OSHA as "caught-in/between" are usually crush accidents. OSHA states that 2.6 percent of all worker deaths are associated with this type of accident, which can include being crushed by machinery or hit by heavy falling objects, tools or equipment.
Forklift Accidents – Untrained and unlicensed forklift operators put all other construction workers in the area at risk. This equipment is also prone to rollovers. Even fully trained and experienced forklift operators can suffer serious or fatal injuries in a rollover.
Highway Construction Accidents – Construction workers who are involved in building or improving streets, highways and roads are at extreme risk of injury. Not only must they deal with passing traffic and the uncertain behavior of drivers, their own equipment operators may create situations of extreme danger.
Toxic Chemical Exposure – There are a number of toxic substances used in the construction industry, including paints, solvents and sealants as well as a range of other toxic substances that put workers at risk. Any worker should be protected from exposure with mandated safety gear such as masks and respirators.
Construction Accidents FAQs
Can I obtain any benefits if I have been hurt in a construction accident?
In Illinois, workers' compensation laws provide benefits after a construction accident. Workers may also be able to file a lawsuit. If you don't pursue the right type of claim, you could lose out on money and medical care you are entitled to.
Notifying your employer of a workplace injury within 45 days is required to obtain workers' compensation benefits. Workers' compensation pays medical and partial lost income regardless of who was to blame for the construction accident.
The Illinois Workers' Compensation Act details the full list of benefits available, including disability benefits equal to 2/3 of your average weekly wage if you cannot work.
However, workers' compensation does not provide the full extent of compensation available in an injury claim. An injury lawsuit allows you to obtain compensation for medical bills, lost income, pain and suffering, emotional distress and the wrongful death of a family member.
Injury lawsuits are not possible in all construction accident cases but should be filed if you have a legitimate claim so you can be fully compensated for your losses. Check our page on How Much Is My Case Worth? to learn how to determine the value of an injury claim.
Can I file a lawsuit if I was hurt while working a construction job?
A lawsuit cannot be filed against an employer after an injury on the job. However, a suit can be filed against third parties. You need to know when a lawsuit is possible to avoid missing out on significant monetary damages.
Employers cannot be sued because the Illinois Workers' Compensation Act establishes a workers' compensation claim as the sole source of compensation available from an employer. Workers' compensation benefits provide income but no payments for pain and suffering. A lawsuit against a third party allows a claim for non-economic losses, including physical pain, emotional distress or reduced quality of life.
Third-party lawsuits can be brought against manufacturers of defective machines, non-employer project managers and any third parties whose carelessness or wrongdoing caused or contributed to your construction accident.
Check our page on Product Liability Law to learn about laws applying to defective machinery.
What kinds of money or benefits can I expect to get if I make a claim after a construction accident?
Workers' compensation provides disability income, lost wages and payment of medical costs, while a lawsuit compensates you for actual economic losses and non-financial damage. Knowing what you are entitled to is essential, as insurers and employers often try to pay less than you deserve.
Workers' compensation benefits are set by statute and include payment of 100 percent of medical costs as well as 2/3 of weekly wages if you are unable to work. There are maximum and minimum weekly benefits for lost wages or death benefits, which are explained on the website of the Illinois Workers' Compensation Commission.
In a lawsuit against a third party for a construction accident, compensation is determined by a jury or through settlement negotiations. You should receive funds to pay medical bills and costs as well as damages for lost income, pain and suffering, emotional distress or wrongful death.
You can learn more by reading our section on Workplace Accidents.
What if my construction injury was my fault?
You may still be entitled to compensation and benefits if you were wholly or partially to blame for a construction accident. Do not assume you aren't entitled to compensation, or you will be left with no help in paying the costs of treatment.
Workers' compensation does not disqualify workers from receiving benefits for accidents they were responsible for causing. Except under specific circumstances such as intoxication or express violations of company policy, a worker can receive benefits for all injuries sustained while performing work.
In a personal injury lawsuit, you may also be able to obtain partial compensation even if your actions contributed to the accident. Illinois uses a modified comparative negligence rule, so an injured person may recover compensation if he or she is less than 50 percent at fault.
Compensation is reduced if you are partially at fault. If damages are $10,000 but you were 40 percent responsible, you would be compensated for only 60 percent of the losses, or $6,000.
An accident attorney who routinely handles construction accident cases in Chicago can assist in proving the extent of the other party's responsibility for causing the accident.
You can learn more at our Construction Accidents page.
What if my family member was killed in a construction accident?
Benefits and compensation are available to surviving family members of those killed in construction accidents. You have limited time to act. So, it is essential to understand how to avoid financial hardship caused by the death of a loved one.
Death benefits are available through workers' compensation and include monthly income based on the average wages of the deceased. Benefits are paid out for 25 years or until a total of $500,000 has been received, whichever is greater.
The Illinois Workers' Compensation Commission provides information on the minimum and maximum death benefits paid to surviving family members.
If a non-employer's negligence contributed to the death, family members may bring a wrongful death claim. Wrongful death lawsuits may be resolved in litigation or through settlement negotiation. Damages include payment of medical bills and costs incurred prior to death, the loss of income from the deceased, funeral costs and lost companionship.
Claims generally must be filed within two years, or they are time barred.
Read more about this type of claim on our Wrongful Death page.
What should I do to protect my rights after a construction accident?
Following a construction accident, alert your employer right away about the incident. Getting prompt medical help is important. Also, you have limited time to file a lawsuit before your claim is time barred.
Employers must be notified of injuries either orally or in writing within 45 days of an accident to preserve your right to workers' compensation benefits.
Workers' compensation claims must be filed within three years of the time the injury occurred or occupational disease developed, or within two years of the time when the last workers' compensation payment was made.
The Illinois Workers' Compensation Commission provides more detailed information on time limits.
Prompt medical assistance is also important to prove your injury was caused by your work accident. Proof of the link between the accident and injury is needed not just for workers' compensation but also if you wish to file a civil lawsuit for personal injury damages.
Personal injury lawsuits also must be filed within the statute of limitations. Our Personal Injury page explains more about this type of lawsuit in detail.
However, the most important thing to remember is the Illinois Code of Civil Procedure mandates that lawsuits for injury must generally be filed within two years of the accident.
What if I cannot work after a construction accident?
Workers' compensation disability benefits and personal injury damages both can provide financial assistance if you cannot work after a construction accident. You must take affirmative steps to receive disability benefits or lost wage compensation, or you could be left with no recourse.
Disability benefits through workers' compensation are equal to 2/3 of your average weekly wages, subject to a weekly maximum and minimum. Benefits are available for both temporary disability and for permanent impairments. If a disability reduces earning potential but does not render you completely unable to work, partial disability benefits are also available.
Damages from a personal injury lawsuit also include payment of lost income, including a lifetime of lost wages if a construction accident makes you permanently unable to work.
Appropriate compensation for lost income in an injury case is determined as part of settlement negotiations, or a jury may determine the wages the injury has caused you to lose. Lawyers in Chicago who focus on construction accidents can assist in finding experts to prove the extent of lost income to maximize damages awarded by a jury.
Learn more on our page explaining what damages you can recover.
What should I expect when I make a claim after a construction accident?
After a construction accident, workers' compensation payments should begin as should negotiations to settle any lawsuits arising from the accident. Denied claims and contentious negotiations are common. Getting what you deserve can present many challenges.
If the negligence of a non-employer contributed to the injury, and a liability claim is possible, you should file a personal injury lawsuit with the help of an attorney. After filing a lawsuit:
Settlement negotiations begin and can continue up to the time of a jury verdict
The case will move forward with discovery (sharing information to build a case) and pre-trial motions (requests to the court to rule on issues such as the admissibility of evidence)
A case will settle and you will receive an agreed upon sum of money, or the case will go to court
A jury will decide liability and damages, awarding an appropriate amount of compensation
Damages will be paid after the jury verdict or, in some cases, after a successful appeal.
What if there is a disagreement about who should cover the costs of my construction injury?
Disagreements over liability or damages in personal injury cases are resolved in court, but you have to take affirmative steps to have your claim heard.
Lawsuits are adversarial by nature. While some cases are settled outside of court, you will have the legal burden of proving your case in order to obtain compensation if it goes to court.
You will need to demonstrate that the defendant violated a duty that led to the accident and your construction injuries. If the jury believes you have proved your case by a preponderance of the evidence, damages will be awarded. Preponderance of the evidence means, more likely than not, that the defendant was responsible for the accident.
What if I was injured passing through a construction site, but I am not a construction worker?
Non-workers injured on construction sites should be eligible for compensation for medical bills, lost income, pain and suffering, emotional distress and other damages. You have the burden of taking legal action to obtain compensation, and you need to act quickly.
Personal injury or wrongful death lawsuits are the appropriate course of action for non-employees injured on construction sites, but you have just two years to file a civil lawsuit.
The lawsuit must state a cause of action (legal grounds for making a claim). If the responsible party or insurer accepts fault, settlement negotiations can resolve the claim outside of court.
The case can also move forward with the exchange of information and evidence (discovery), and with the court ruling on issues that must be decided prior to trial.
If the claim does not settle, you will need to prove that negligence or wrongdoing caused the injuries you suffered on the construction site. You can be compensated even if you were partly at fault and, in some cases, even if you did not have express permission to be at the site.
Cases can settle up to the time the jury delivers its verdict. If no settlement is reached, the jury will decide whether you obtain compensation and how much you receive.
How could a lawyer help me after a construction accident?
Employers and insurers have lawyers looking out for their interests after a construction accident occurs. Having an attorney representing you will ensure your rights are protected. Your lawyer can help in many ways to maximize your benefits.
An attorney can:
Determine whether to pursue a workers' compensation claim, a lawsuit or both
Gather evidence to prove eligibility for benefits or a right to compensation
Argue your case in court to maximize the chances a jury will find in your favor.
These are just some of the many ways having a professional legal representative is beneficial after a construction accident.
Insurance companies are big operations. An individual who is hurt and trying to seek compensation for his or her losses would be badly overmatched without help from an experienced injury lawyer.
An attorney can provide the resources and support that you need to establish your case, negotiate with the insurer or be successful in court.
Contact us today to speak to a member of our legal term to learn more about the services Salvi, Schostok & Pritchard P.C., can provide.
Facts and Figures
The U.S. Bureau of Labor Statistics (BLS) says construction work accounted for the second-highest number of fatal work injuries of any industry in 2012. Unsafe working conditions, equipment that fails, safety precautions that are ignored and human error contribute to construction site mishaps. Construction accidents can result in death or in injuries so severe that the worker is never again able to earn a living.
The Census of Occupational Injuries produced by the BLS provides national and state figures for workplace injury and illnesses. An injury is considered work related if an event or exposure in the work environment either caused or contributed to the resulting condition or significantly aggravated a pre-existing condition, the BLS says.
In its report for 2012, the BLS says there were:
2,976,400 total recorded cases of nonfatal injuries and illnesses among all private industry in the U.S. in 2011.
4,383 fatal work injuries in the United States in 2012, a rate of 3.4 per 100,000 full-time equivalent (FTE) workers.
806 fatal workplace accidents in the private construction industry during the year.
2.0 cases per 100 FTEs of injury or illness in the construction industry that resulted in days away from work, job restrictions or transfers.
145 fatal workplace accidents in Illinois in 2012
194,300 people in Illinois on average employed in the construction industry.
How Do Construction Accidents Occur in Illinois?
Each year, the Liberty Mutual Insurance Company publishes it Workplace Safety Index. This is a listing of serious non-fatal workplace injuries. The Index is based on data from the BLS and National Academy of Social Insurance as well as work­ers' compensation claims from around the country.
Based on the 2012 Census of Fatal Occupational Injuries Summary the top 6 most frequent causes of fatal injuries are as follows: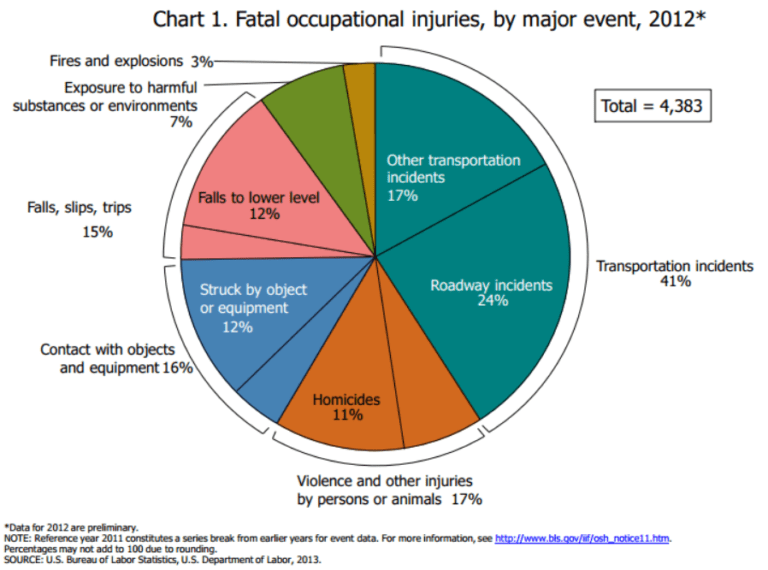 General contractors, developers or others who supervise construction sites have a legal duty to ensure that their sites are as safe as they can be. This obligation includes a requirement to advise and train construction workers about safety issues, and to ensure that construction workers are issued appropriate and properly working safety equipment.
Contact a Chicago Construction Accident Attorney
Salvi, Schostok & Pritchard P.C., is prepared to move forward at once to protect your right to full compensation after a serious construction injury. We pursue damages from every possible source for our clients. We also represent families who have lost a loved one in a construction accident. Call or contact us online today for more information.
Sources / More Information: