Lead Exposure Attorneys in Illinois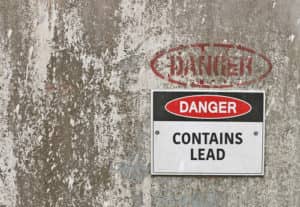 Even if you are exposed to a slight amount of lead, it can have a devastating impact on your health. This is especially true for children. Lead poisoning can stunt a child's physical, intellectual and behavioral development and cause a wide range of irreversible harm.
Unfortunately, many adults and children in Chicago and throughout Illinois are exposed every day to lead-based paint, lead-contaminated soil and lead-containing products. In many cases, the exposure may occur for a number of years before a person learns of the exposure.
If you believe that you or your children have suffered harm from lead exposure, the product liability attorneys of Salvi, Schostok & Pritchard P.C., want to help you. As a law firm that has recovered more than $1 billion on behalf of our clients, we have the skill, experience and resources you need during this difficult time. We will aggressively seek all compensation you are due.
To schedule a free consultation at our offices in Chicago or Waukegan – or at a location that is most convenient for you – contact us today. Our initial consultations are free and carry no obligation.
How Does Lead Exposure Occur?
Lead is a naturally occurring element that was once widely used in construction and manufacturing. Because you cannot see, smell or taste lead, you can be exposed to it without your knowledge. Among many potential sources of lead are:
Paint – The federal government banned the use of lead-based paint in housing in 1978. However, if you live in a home or apartment complex that was built before then, you may be exposed to lead-based paint, which can be dangerous when it peels and chips away.
Water – Lead in pipes is also a concern in older housing. When pipes and fixtures corrode, it can cause lead to leach into a home's water supply. Drinking tap water can cause a person to have elevated levels of lead in their blood.
Soil – The environment surrounding smelting and refining plants may be contaminated by lead due to dumping and lead dust being spread by the wind – even though the factories may have ceased operation years before.
Toys – Although toy manufacturers in the U.S. are banned from using lead in paint and plastic, toys which are made in other countries and imported to our country may contain the substance.
Children face a high risk of lead exposure due to the fact that they often put objects and their hands in their mouths. They may ingest or inhale lead when playing in certain areas of the home or with toys made with lead-based paint or plastic. They can also be exposed to lead when playing in contaminated dirt or mulch.
Adults may be exposed to lead in the workplace and bring it home on their bodies and clothes, or they may encounter lead when renovating an older home.
What Are Symptoms and Effects of Lead Exposure?
As the Mayo Clinic points out, lead poisoning can be difficult to recognize. Symptoms may not appear until one has high levels of lead in their bloodstream, including symptoms such as:
Abdominal pain
Constipation
Vomiting and nausea
Anemia
Fatigue
Headaches
Difficulty with concentration
Irritability or other mood disorders.
It is important to know how to identify potential lead exposure among children under the age of six due to the fact that they are highly susceptible to the effects of lead, according to the Environmental Protection Agency (EPA) and Centers for Disease Control and Prevention (CDC). Signs can include:
Slower physical growth
Hearing difficulties
Learning problems
Hyperactivity
Behavioral problems.
The child may also suffer irreversible "cardiovascular, immunological and endocrine effects," the CDC states.
Lead may also be released as "maternal calcium" in pregnant women and impact the development of a fetus. Lead can also be passed to the fetus through the placenta and lead to a child's premature birth or stunted development, the CDC reports.
A person can undergo a blood test to detect the presence of lead. However, even though a test may indicate a low level of lead in the bloodstream, it may not accurately reflect a person's level of poisoning. This is because blood may enter into the teeth and bones.
Although lead poisoning is irreversible, it can be treated through chelation therapy. This treatment involves the injection of a chemical into the blood. The chemical binds with lead and is excreted through the urine, The New York Times reports.
How Can a Lawyer Help If You Were Exposed to Lead?
If you believe that you or your children have been exposed to lead, it is important to get help from an experienced personal injury lawyer.
The attorney can investigate how the exposure may have occurred and who should be held legally responsible for the harm you have suffered.
Parties who may be to blame for lead exposure include:
Landlord – A landlord may have known about lead paint in your home or apartment but failed to take steps to remedy the issue or to warn you or other residents about the risks you faced.
Construction site owner – Many workers in the construction industry can be unknowingly exposed to lead while working on renovation projects due to the negligence of site owners.
Manufacturer – The companies that conducted mining, smelting or refining activities may have caused the surrounding areas to be contaminated by lead, including soil and water sources. Manufacturers of toys, jewelry and other products may wrongfully allow lead-containing products to get into the hands of consumers.
Government agency – A local, state or federal government agency may have known about lead contamination in housing, soil or water and failed to take appropriate action, including warning residents and providing guidance on how to avoid exposure.
A lead poisoning investigation can involve reviewing medical records, company records and environmental agency and health department reports. Experts may also be called on to analyze the evidence, determine the nature of the lead exposure and assess the impact on your health or your child's health.
A lead exposure lawsuit can seek a recovery of all related past and future medical expenses, lost income and diminished future earning capacity, relocation expenses and pain and suffering.
Contact Our Chicago Lead Exposure Lawyers
The attorneys at Salvi, Schostok & Pritchard P.C., we are committed to helping those who have suffered harm due to lead exposure, including the parents of children who must deal with the devastating effects of lead poisoning.
We work with families throughout Chicago, Waukegan and surrounding areas in Illinois and northwest Indiana. Our initial consultations are always free. Contact us today and allow us to get started on reviewing your case.
Sources / More Information: